After Hours: Volume 1 manga review

By Leroy Douresseaux
Jul 23, 2017 - 22:52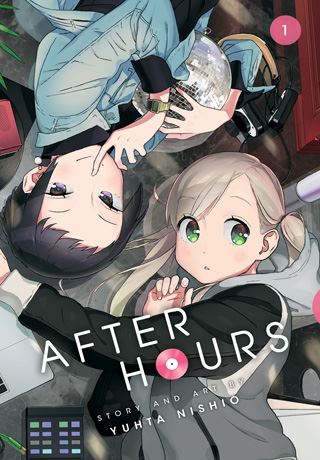 After Hours Volume 1 cover image
Rated "T+" for "Older Teen"
After Hours
is a yuri manga from creator
Yuhta Nishio
. "Yuri" is "girls' love" manga, a genre which depicts romantic situations between female characters.
After Hours

, Vol. 1
(Chapters 1 to 5) introduces 24-year-old
Emi Asahina
. She is unemployed and does not know what to do with her life. One night, she is supposed to meet her friend,
Mayumi
, at a night club, but discovers that Mayumi has ditched her for a guy... again.
Emi decides to hide in the corner of the club, because she really does not like the club scene. When a guy tries to hit on her, she is rescued by a young woman who introduces herself as
Kei
, a DJ. Kei seems determined to be friends with Emi, and by the end of the night Emi will discover just how far Kei wants that friendship to go.
THE LOWDOWN:
I think that I'd heard of girls' love manga somewhere in the last decade or so of reviewing manga. My VIZ Media rep sent me a copy of the first graphic novel in the
After Hours
manga series, giving me my first chance to read "yuri."
After Hours Volume 1
did not shock me at all. The first volume of yaoi or boys' love manga that I read was pretty surprising, but I can't remember which manga it was. The characters in After Hours are interesting because there seems to be some mystery about the leads, their motivations, and their plans. Beyond that, they are not particularly strong characters... yet. I anticipate lots of drama in this series, just going on a few cues and clues, so I want to see more of this.
I READS YOU RECOMMENDS:
Fans of girls' love manga will want to try
After Hours
.
B+
7.5 out of 10
Rating: 7.5 /10
Support this writer on Patreon
Last Updated: Jun 26, 2018 - 9:28