Comics / Comic Reviews / More Comics
After Dark #1
By Leroy Douresseaux
August 23, 2010 - 10:34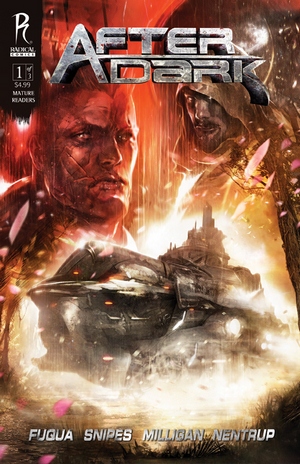 After Dark #1 cover image - painting by Francesco "Matt" Mattina
After Dark, a comic book series from Radical Publishing, is the creation of director Antoine Fuqua (Brooklyn's Finest, Training Day) and actor Wesley Snipes (Blade). This science fiction miniseries is written by Peter Milligan (X-Statix) and is set in a post-apocalyptic, near-future that could be our real future.
After Dark #1 introduces an Earth that exists in a state of near-perpetual darkness. Civilization has largely become confined to domed cities, and Solar City is the most populated city. Some of the populace lives in a drug-addled stupor, while others are constantly rioting for various causes and reasons or maybe because they're bored.
The rulers of Solar City decide that Angel, a messianic figure who hasn't been seen in decades, can tame the populace. They enlist Omar, a Bedouin drifter, to guide a team composed of both military and civilians into the wilds outside the city in a search for Angel. The mission immediately gets off to a bad start.
THE LOWDOWN: A team composed of squabbling rivals (law officers and criminals), heading into an unknown land – rife with people and things waiting to hurt or destroy them. It's The Wizard of Oz or a road movie. Regardless of the setting, plot, or characters, a scenario like After Dark's is always about the mission (Red River, Aliens, Platoon, Blade II, etc.). After Dark is an interesting concept, and while it feels all-too-familiar, what sets it apart is the idea of nature covering the land in an all-consuming darkness – one so near-complete that it plucks are deepest fears.
The execution of the concept, by Peter Milligan via script, is good, because Milligan presents something to read that is always interesting and usually superb, although I wouldn't call this superb. The painted art is good, especially the exteriors and shots of the ship. However, there is something missing in this narrative, and that's the main action of the story. Too much of this first issue reads like back story or an extended prologue. Still, what is here is good enough to tempt readers to try the second issue.
POSSIBLE AUDIENCE: Fans of post-apocalyptic science fiction comic books may want to try After Dark.
B
Last Updated: August 31, 2023 - 08:12