Wonder Woman Stripped of Her Pants
By Andy Frisk
August 12, 2011 - 23:40
For over a year now, Princess Diana aka Wonder Woman has been regularly spotted around the DCU wearing…wait for it…PANTS. As part of a now aborted mini character reboot, Wonder Woman not only got an angsty upgrade in attitude, but a seriously important costume update. The skin baring and adolescent hormone stroking bathing suit outfit was seemingly a thing of the past. Unlike the upgrades to the new DCnU Superman's outfit, the updates to Wonder Woman's outfit were seriously past due. If DC Comics really wanted to treat Wonder Woman as one of their three founding superhero pillars, she had to look at least a little more respectable as not only a woman, but as a serious female superhero. There are enough Vampirella and Lady Deaths out there whose outfits and physical look are designed to sell their books. Wonder Woman is more than a babe designed to sell books though. She's a pretty complicated and idealistic character. Now far be it for me to wade into any conclusive and final definition of what a female comic book character should look like. I'm sure there are plenty of female (and male) readers out there who view the skimpy outfits of the aforementioned Vampi, Lady Death, and the like as liberating, indicative of the power of the feminine, etc, etc. Also, a case can be made for Wonder Woman being half nude since she is the ideal representation of the classical (as in ancient Greek and Rome classical) esthetic in superhero form. After all, most classical sculptures depicting the human form are mostly nude, like the Venus de Milo. Wonder Woman is first and foremost though a superhero, and (once again) a serious one, or at least as DC Comics would have had us thought…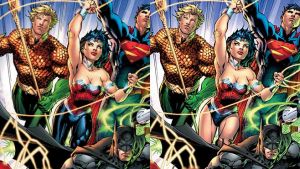 Along comes the DCnU with all its costume redesigns and character story restructures, many of which are questionable at the least and horrible at the worst, but out of all the questionable changes Wonder Woman seemed to be rightly keeping many aspects of her
Straczynski rebooted
costume design. She would lose the jacket, but keep the pants. This would allow her to keep her new, more practical, albeit less babelicious, look. The Straczynski Wonder Woman outfit's changes were
commented upon
by DiDio at the time as follows: "The bare leg look aspect was something that was unique when those characters were designed, and right now we're looking at designs as if we were designing the characters for today's audience." Apparently this was a hint at the new and all encompassing mantra that was to become the touchstone of the DCnU: "for today's audience." Hence, putting Wonder Woman in pants, in DiDio's view, will cause her to be more appealing in the eyes of more discerning, sophisticated, and contemporary readers. The bathing suit outfit was old, dated, a bit chauvinistic, and really doesn't resonate today. Kudos to DiDio and the gang at DC Comics, even if the rebooted Wonder Woman, as I've stated before, really wasn't the Wonder Woman that readers knew and loved, much like the new Superman doesn't look to be the Superman that readers have known and loved for years. (In hindsight, it really does appear now that the whole Wonder Woman experiment was a sort of test run of the idea that would become the DCnU).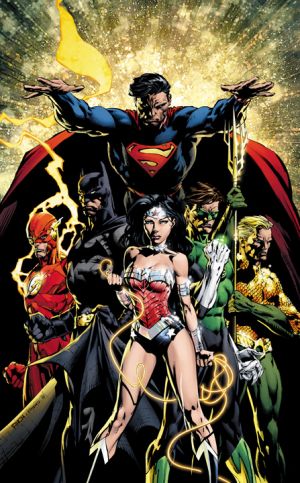 SuperEvilman? Wonder Tween? This image is so bad in so many ways that it defies description.
So, what happened? DC Comics recently revealed the final and official covers to the new
Justice League
series and Wonder Woman's pants have apparently been stripped. For all the talk of "today's audience" and the suggestion that they are a little more discerning or desirous of a certain level of realism, that apparently includes a shot of Superman's
tight bottom
made visible through a lack of his "underwear on the outside" red trunks, it appears that DiDio and company decided that a little skin, however impractical and titillating, is still the way to go. All I can say is way to go DC. Talk about flip flops, if Wonder Woman can run around half naked again, then maybe they can flip flop on Superman if his new incarnation flops too.
Last Updated: May 19, 2020 - 12:25