Watchmen Prequels Announced
By Zak Edwards
February 1, 2012 - 11:16
Well, this is one hell of a Wednesday, isn't it? Today marks the official announcement of the long-rumored Watchmen spin-off project. Set to over double the number of issues of the original (actual page count will differ given DC Comics' commitment to lowering page counts to twenty, promising to keep prices stable, and then raising them anyways), this series will be launching sometime this summer. The numerous mini-series will feature some of today's hottest talents, including Brian Azzarello and Darwyn Cooke.


And, in the words of Alan Moore, this is "a kind of eager confirmation that they are still apparently dependent on ideas that I had 25 years ago."
For those of you who follow the Comic Book Bin, you may be reading Troy-Jeffrey Allen's recently launched "One Shot" column that seeks out new series in comics in an attempt to find something new and interesting. I know I'm reading it, desperately, and hoping to save cash and still keep going with a medium I find fascinating and believe is both extremely important and in a time of crisis. Important because of its form and unexpected genius, crisis because of print's general problems and because of Alan Moore's exact sentiments.
So while many articles will be published over the next few days and possibly weeks about the need for this to stop, for the grail of Watchmen to be left well enough alone because it is a single, cohesive story that doesn't deserve to be tarnished by cheap cash grabs (all these sentiments I fully support); it's also important to recognize that comics, at least the mainstream ones in particular, are in a creative dry spell and dependent on ideas from 25 years ago. So yes, a boycott would be nice, I sure as hell won't be buying them, to show that this sort of laziness is not tolerated, but a consideration of what is being purchased, and the practices these purchases produce, is also extremely important.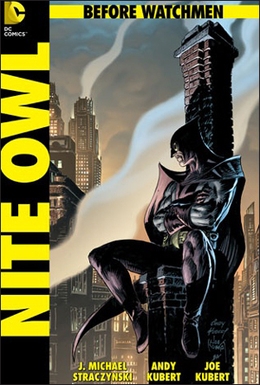 For example, the bane of many comic readers' existence is the dreaded crossover. The crossover causes stories to spill into another by having a story interrupt a narrative and forces readers to buy more books they usually don't. It not only hurts the wallet, but the stories themselves. Christopher Yost and Craig Kyle's work on X-Force was amazing for about five issues, then it was involved exclusively in crossovers for the next twenty-two issues. Similarly, I loved Thunderbolts from Warren Ellis' run right up until it crossed over with Deadpool and then whatever event Marvel was doing that week, it all went downhill afterwards. Yet, despite constant outrage from fans, the crossover still exists, with events being spun to have a main book and innumerable crossovers to sell even more issues. It's a proven method to get people to buy more books and make more money. That is, unfortunately, the reality. The point, however, is that this tactic, a tactic most comic readers will point to as one of their least favourite parts of their hobby, does sell books. Because we buy them. Events work because we buy them. Watchmen prequels will top the charts and probably lead to even more Watchmen books in the future because we buy them. And it goes against what we say we want. Ironically, I think DC Comics actually figured that out in September.
I think the reason new DCU 52 was so successful is that comic readers new and old were excited by the concept of space: creative space in which artists and writers could do something new and original with already familiar properties. It's flawed logic from the start, but it is something I believe to be true. It's why I jumped on. I didn't really read DC books before the new DCU barring Batman trades. The new DCU now has me hooked in for about three or four titles after reading the first couple of issues of about ten or twelve. These books, I feel, took advantage of the slate given and are doing something I truly enjoy and I don't see anywhere else. It seems strange to me though, that DC Comics is responding to this creative space with complete derivation.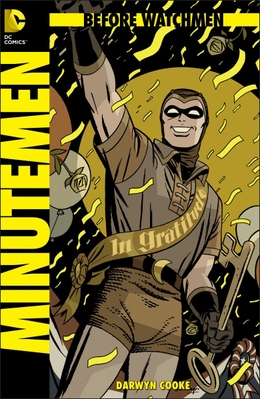 The major reasons we buy these books is because the comic book publishing industry has made us obsessed with not knowing rather than knowing. By suggesting that some book we didn't buy has information that will confuse or become relevant later on has the comic reading public in a state of uncomfortable paranoia. The symptom relief to this paranoia is to buy these books and, ironically, the cure is to not.
But my point is this: Yes, DC Comics is tarnishing something that should be left well enough alone, but they're doing so because they know it'll make money and get people talking about them again. So while the industry seems to be heading towards a creative apocalypse where every comic book starts to look like Archie digests (one short new story in the front with derivative art and about sixty pages of reprints following), it's doing so because people are obsessed with not knowing and as such must buy everything to learn things that don't matter. You want the real Watchmen story in its entirety? Pick it up, it's never been out of print. You want to know anything else about these characters? Who cares, it is literally inconsequential. Move on, find something new and buy it, encourage creativity, and find out what could happen to a dying industry if publishers, and readers, started taking risks.
Last Updated: February 5, 2023 - 09:06