Voltron: Defender of the Universe
By Patrick Bérubé
December 1, 2011 - 20:00
The 80's are not dead and Voltron is back in a new video game from Studio THQ to prove it. Be ready to fight the evil force of King Zarkon alone or with up to four friends via Xbox live. Choose between one of the five colored lions, each of one having is own strength and weakness, to battle your way trough enemy infested jungles, deserts and deep space.


Gameplay and Control

There is actually two game mode in Voltron. The first one is the most common and is a top down view of the battlefield where your control one of the tigers on land or in space (1942 style!). I was at first a bit put off by the control of this part of the game until I realized that, well, my mechanical lion was actually moving like a real lion and I quickly learned to appreciate that fact. So no instant 180° turn but you get a better and more realistic feeling overall.

The second game mode is where you control Voltron and you fight various Robeast! Instead of a shooter however we are treated with a turn based combat system where you quickly have to choose your attacks and push various buttons at the right time to make them work. This act as a nice counterparts to the rest of the game and help diversify the gameplay.

Graphics and sound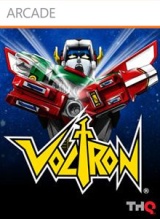 Visually, Voltron is pretty much what you can expect from an Xbox arcade game. It does not really shine but it is good enough so you can enjoy the game without noticing anything bad. The most interesting aspect was for me the inclusion of many clips from the original animated TV show as cut scenes or even the introduction. They even used original sound clips for various actions in the main menu and the pause screen. This really helped me to get into the game and into the spirit of what Voltron is all about since I did not really know it before playing this game.



The Verdict



Voltron is a very decent game. So far it is my Xbox arcade game of choice when I don't want to play more elaborate game such as Skyrim or MW3 or simply when I don't have much time on my hand. I only wish the creator of this game had added more power-up type of items to diversify the somewhat formulaic gameplay.

I rate this game 6.5 out of 10. It should please both fan of the original animated series as well as newcomers looking for a new Xbox live arcade experience.

Rating: 6.5 /10
Last Updated: February 5, 2023 - 09:06