Comics / Comic Reviews / Marvel Comics
Venom #1
By Dan Horn
March 9, 2011 - 15:48
All I can say is, "Holy $#%&, this is an amazing comic!"
Well, I suppose I'll have to come up with more than that for this review, so I'll elaborate:
If you've missed out on some recent developments in Amazing Spider-man, after losing his legs in combat to save his platoon Cpl Eugene "Flash" Thompson has been given a second lease on his military service. He's been hand-picked to wear the Venom symbiote and carry out some of the US government's dirtiest covert ops. Now he's hot on the trail of an international arms dealer who is supplying the world's evilest men with the means to rule with iron fists.
Venom #1 variant cover
Dan Slott introduced this iteration of Venom last month in ASM, and I was gleefully eager after that teaser to see what, after such a brilliantly unique take on the Punisher, Rick Remender and artist Tony Moore would bring to the table. I was not disappointed. This first issue is nothing but high-octane action, superb character development, heart-rending internal conflict, and Tony Moore's fantastic artwork. And the updated Jack O' Lantern? Very cool, very creepy, and very funny.
I think one of my favorite things about this new Venom is how excited Flash was to don the symbiote to be like his "biggest hero," Spider-man, not realizing that he may end up becoming the opposite of hero if he loses control. Slott really did a hell of job setting up the framework for the character, but it's this issue that really had me saying, "Goddamn, Remender's done it again." The final pages of the issue are flawless. The bar with the wheelchair ramp and the church without? Man, I just had to shake my head at how moving that scene was.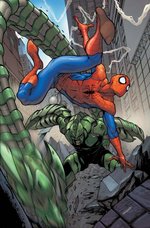 ASM 654 is where the new Venom's story begins
I really love this character, from Slott's introduction of Flash as Venom to Remender's depiction of this tragic new hero. This series is the perfect follow-up to Remender's Punisher run. Uncanny X-Force is awesome and all, but Venom is the title I'll be following religiously, just as I did with Frankencastle. Read this now!
Rating: 10 /10
Last Updated: February 5, 2023 - 09:06