Comics / Comic Reviews / More Comics
Vampirella: The Second Coming #3 (of 4)
By Andy Frisk
November 14, 2009 - 23:33
As the Chaos Plague spreads in the streets of Washington DC, driving the populace insane with a murderous frenzy, Vampirella's army of devotees battle to save whom they can while planning an attack mission to recover and revive Vampirella's corpse. Meanwhile, Frank Witten, Kelly's husband (Kelly being the first of Vampirella's devotees to be awakened at the end of the first issue) begins to have second thoughts about his allegiance, and he just might have an opportunity to aid his wife and her army of Vampirellas stem the tide of chaos if he so chooses…
Vampirella: The Second Coming nears its conclusion, and this series has been a pretty good revival of the character. With the actual "second coming" of the one true Vampirella, the series is set for a pretty action packed conclusion. Vampirella is primed to lead her army against Gore and his chaos demons in bloody battle next issue. Writer Phil Hester is looking to tie up the adventure by the end of next issue, and one can't help but wonder what the fate of all the Vampirella powered and liberated women will be. Will Vampirella disband her army? Will she absorb their essences into her own? Will she found a sort of Paradise Island and be the Harris Comics' version of Wonder Woman? If we weren't in store for a great climax next issue, answers to these questions would be enough to get us to pick it up anyway.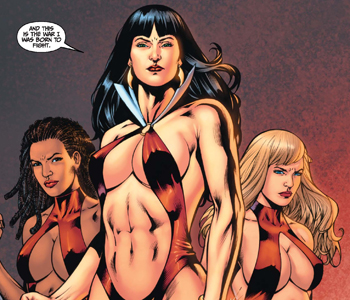 Al Rio's art continues to thankfully deliver us more of the same. There's plenty of gore, demonic creatures, tiny outfits, and fantastic female forms. The look of Vampirella's tomb is interestingly detailed, and he continues to deliver some great, highly kinetic, condensed, and frenzied fighting scenes. The issues of this series have been worth a second read through in order to absorb all the detail and action, and to, of course, check out the bodies…Vampi's outfit has to be the most sexy female comic book hero's costume ever designed, and the most imitated.
Overall, as Vampirella: The Second Coming nears its final issue, we can only hope that she doesn't stay dormant for a long period of time after its conclusion. It's been fun witnessing her second coming, and now that she's back, maybe she'll stick around.

Rating: 8 /10
Last Updated: May 19, 2020 - 12:25