Comics / Comic Reviews / Marvel Comics
Ultimate X-Men #86
By Zak Edwards
September 20, 2007 - 00:53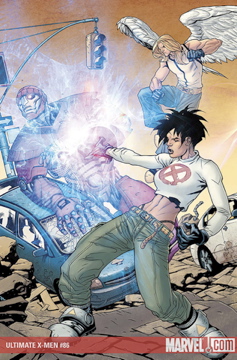 Wait, didn't this happen last issue?
Issue 86 of Ultimate X-Men is almost a complete copy of the last issue, with only the slight differences in locations and one conversation that actually does something for the plot. The series has been suffering from too many dangling plot lines being left to the wayside and not developing any of them. Only now, quite a few months after all these plots were introduced are we now getting answers, and these answers have been momentarily delayed for this issue.
Kirkman has shown his audience an almost repeat of last issue. Start off with a fight with the Sentinels, then give Stryfe some screen-time to show how much of a non-threat he is, enter scantily clad Jean Grey, then Beast running from S.H.I.E.L.D and leave us off with another fight. Barely anything has developed any further. The scenes with Stryfe were counter productive. At first he recognizes what Pyro is doing and displays intuitiveness and strategy. He then makes an amateur error that takes away the notion that he is a man not to be trifled with. In fact, Stryfe now seems exactly like a guy to trifle with! He is not making any impact as a villain, showing himself to be neither intelligent nor displays many other strengths. Beast's story continues to not develop, as does Jean Grey's. Unfortunately, Kirkman seems to be trying to expand this arc for longer than is necessary, giving readers this filler issue just when things were looking up.
Paquette's art continues to look better and better. The fight scenes were great, with characters leaping of the pages, fighting with unique ways to defeat the opponents that are quite entertaining. Bishop's X-Men continue to look great in their new uniforms. The only complaint is the Jean Grey scene. The fact that her face is completely shaded out while her barely clothed body is shown to great detail is downright unnecessary.
5/10 A copy of last issue with very few developments, art continues to be good.
On a side note, I would like to apologize for the tardiness of this review. Sorry to anyone who was wanting to read this earlier. I'm sure if you've been to university, you can attest to how busy September can be.
And, as always, feel free to e-mail me at zak@comicbookbin.com and tell me what you think.
Last Updated: May 19, 2020 - 12:25