Comics / Comic Reviews / Marvel Comics
Ultimate X-Men #83
By Zak Edwards
June 28, 2007 - 15:50
Ultimate X-Men #83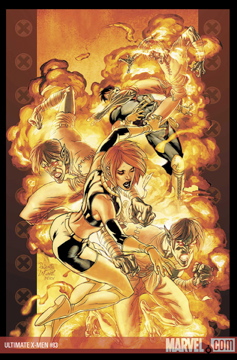 This is the only good thing about this issue.
Ultimate X-Men is a perfect example of how a single comic can be up and down on a seemingly constant basis. This series started off with Mark Millar doing a few very intense and gritty story arcs that were fantastic, and since then Ultimate X-Men has been all over the place. A prime example is Robert Kirkman's run. Starting after Brian K. Vaughan can be a daunting task, but his "Date Night" arc was very unique and enjoyable, as was many of the other arcs since then. I even enjoyed "Cable," although I believe I am a minority when it comes to that. Then at the end of the "Cable" arc, the impossible happened as Kirkman killed Professor Xavier. The first thing that popped into my head was, "This is incredible!" Finally someone did something on this comic that doesn't just make the X-Men the exact same but younger, but then he went back on what he did, revived Beast (and thus ruining the dead and buried means just that streak this comic was on), and I feel this series is at an all-time low.
So what's been happening in these last few issues, in a phrase: a lot but none of it matters. Cyclops made the Xavier Mansion into a school, disbanded the X-Men, and now it feels like we get more screen time of Bobby Drake playing video games than anything else. This doesn't make any sense as there are so many ideas and events happening which would make incredible stories. Instead, the Morlocks have reared their deformed heads and Nightcrawler, after his weird actions in the annual, is now down there. So it's up to the former X-Men to go and be the better men and beat up Kurt's new friends. The sub-plot of Bishop recruiting a new team is moving at no pace at all as Kirkman seems set on making sure every character gets to have a chat with him and Storm. This issue specifically has some mundane fight sequence and an ending that makes the whole issue pointless. The sad thing is that after the events in the annual, I find myself not even caring about one of my favorite characters. Nightcrawler's adventures in the underground seem pointless now and these issues seem meaningless because of it. Character interaction is pretty much all petty squabbles and I just find myself frustrated and unwilling to buy the next issue. At this point, something better happen, or else I'm going to take my money elsewhere, which is a shame because this series used to be one of my favorites. I keep holding on and waiting for the series to go on a high again.
As for the art, it seems that Marvel has given up on the series as well by hiring an artist who draws all characters to look in their forties. The excessive lines on all the characters faces age them and also make it look like the artist was too lazy to use an eraser. The colouring is awful as well, with a bland palette combined with shocking pieces of colour, like Jean Grey's unnecessarily bright red hair. Dazzler looks like a guy, Angel and Colossus do not look attractive like they used to, and Rogue looks almost exactly like her counterpart in the original Marvel Universe, except older. Usually I like to think of one redeeming feature of a book just to be fair, so I'm going to go with the cover. I actually like this cover, the colouring and positioning looks great. Too bad the interior couldn't be that good.
1/10 And I don't even know why I gave it that much.
Last Updated: May 19, 2020 - 12:25