Comics / Comic Reviews / Marvel Comics
Ultimate Spider-Man #133
By Zak Edwards
June 15, 2009 - 23:01
This is it, the last issue of Ultimate Spider-Man before the "Requiem" issues and the re-naming to "Ultimate Comics Spider-Man." Brian Michael Bendis decides to try something a little experimental, the removal of the speech balloon. No characters talk, none at all, and for the first time since he left, I miss original Ultimate Spider-Man artist Mark Bagley. While Stuart Immonen has been amazing on his tenure on this title and I regret his leaving at the end of the aforementioned Requiem comic books, his strengths are definitely with the ction and not the emotion, which is something an issue like this needs in droves.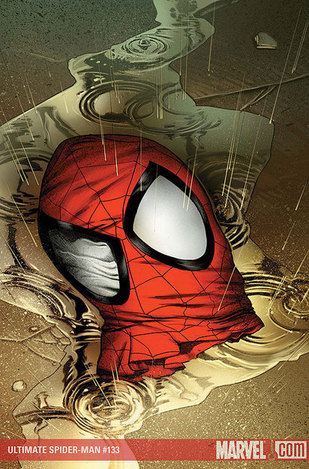 Basically, the story is one of continuing to deal with the flood of the Ultimatum event. New York has been flooded, the home of the sorcerer known as Dr. Strange has started unleashing many, many horrors and the title character is nowhere to be seen. And so it is up to Immonen to deliver what Bendis does not. While I applaud the experimentation and leap of faith this style of story-telling took, the entire book does not do very well. There are a lot of fights, rescuing, and action-type scenes and only with the end does a sort of grand emotional event happen, leaving readers questioning what has happened to the protagonist and seeing only a devastated Aunt May. Of course, Stuart Immonen's artistic abilities with action sequences continues to impress, and while his abilities at the more emotional moments has come a long way from when he started, Immonen's style does not lend itself to the dramatic moments Bendis attempts to get him to do. Of course, this is compensated by the writer in the form of an abundance of action heavy sequences.
But here in lies the problem with this issue. As Bendis obviously compensates for Immonen's specialty, the issue feels lacking because of it. I feel too much was held back in this issue because of the experimentation and a more conventional issue would have been better able to have an impact, especially before the series is rebooted after the whole Ultimatum debacle is finally put to rest by the terribly incompetent team of Jeph Loeb and David Finch.
6/10 While I applaud the idea, the issues loses too much without the words.
Last Updated: January 24, 2022 - 11:00