Comics / Comic Reviews / Marvel Comics
Ultimate Comics: Avengers #1
By Zak Edwards
August 15, 2009 - 13:21
When I heard Mark Millar would be returning to the Ultimate Universe after Ultimatum, I was very excited. His Ultimates with Bryan Hitch is probably one of my favourite superhero comic books and having him return is a very good thing. So Millar and Brian Michael Bendis have returned to recreate the Ultimate Universe, like they did almost ten years ago, and now this line is back on track. For the Ultimates, that means a name change from Ultimates to Ultimate Comics: Avengers, which is right on track with Millar's usual deliveries.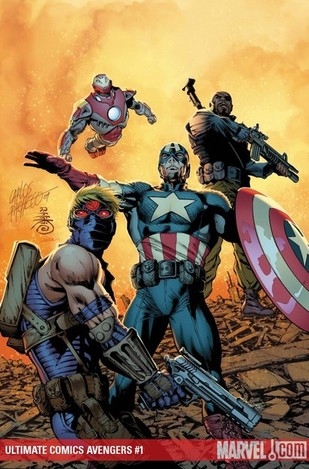 There is a special place in my heart for Mark Millar. Where other writers could include such blatant want for sex and violence, I turn up my nose. But when Millar does it, I'm there, laughing and enjoying the whole thing. His reckless abandon includes such amazing this issue as having Captain America fly out of a skyscraper which just had a bomb go off in it, on a motorcycle, and land in a helicopter, proceeding to kick the crap out of all of the occupants. That's right, and the issue continues in this vein. Millar also graces his readers with the introduction of the Ultimate version of Red Skull, who is a big red-headed (literally red-headed) man with a severe dislike of Captain America. But what really makes this issue awesome is the same thing which made Ultimate Comics: Spider-Man amazing, very little has changed. Ultimatum seems like a distant scar on everyone's memory, mine included. I mean, some things have changed; Millar can't use some characters because Loeb killed them, Carol Danvers is in charge of S.H.I.E.L.D instead of Nick Fury, but Nick Fury is back anyways. Tony Stark is busy getting lap dances while playing chess at a strip club while Captain America is running around in helicopters, another return to form. But the entire thing works and runs like it did before. However, the series is lacking the political and social awareness as well as the satirical elements, perhaps because looking at the effects of the 9/11 attacks is almost a cliche at this point. I'm not sure if Ultimate Comics: Avengers will be as poignant as Ultimates and Ultimates 2, but it is one hell of a ride, something the Ultimates haven't had for a while.
Penciller Carlos Pacheco has a style fairly reminiscent of Bryan Hitch which never works against him. The team is obviously going for a very distinctive look and tone very similar to the original Ultimates series and so the art could only go one way. To be honest, it is a welcome change back to a more realistic look compared to the over-the-top art of Ultimates 3 artist Joe Madureira, which went as far as to have little pink hearts floating around a character's head. The colouring also fits into this realistic look, but a couple of panels seem to be a little to bright and polished for the art. The panel with Captain America driving out of the building has him looking very polished and bright to a very noticeable and distracting degree, but then eventually his colours fade, only to be brightened again. Similarly, the terrorists, A.I.M, operatives, have very yellow costumes which seem to fade and go bright again. Of course, this could be to focus the reader's attention on what's important in a panel and on a page, but Captain America is hardly ever not the focus. But the art works very well and I am definitely coming back for more. Even if Ultimate Comics: Avengers is less socially and politically aware, I feel this series will be, at the very least, enjoyable.
7.5/10 A little action heavy, but a serious amount of fun with strong visuals.
Last Updated: January 24, 2022 - 11:00