Ubiquitous Extension Set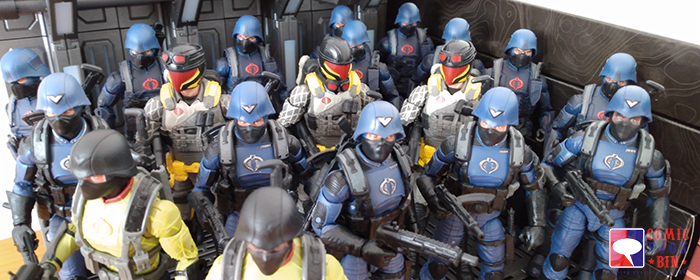 By Hervé St-Louis
January 25, 2023 - 18:18
The Ubiquitous sets are snap and stick blocking systems used to create action figure backdrops. There are two sets, the original and the extension. I bought both, although this review will centre on the latter.
Nova, a Chinese company, produced and introduced the sets around 2017. I've had both sets for about a year (buying them together) and have not had time to assemble them prior. Looking at reviews, I dreaded working on the sets, fearing it could get complicated or take a lot of time. I tried the Extension set first as practice. I can assemble both set and connect them to create an intricate backdrop for my action figures. I'm glad to report that it's not as difficult as I perceived. These are Lego sets for adults.
Star Wars seems to have inspired the set's design. Many science fiction designers have adopted that look since its introduction in 1977. The sets are not white backdrops like Star Wars. But they have similar rectangular shapes, vents and, protruding geometry. As with the Star Wars look, the shapes of rooms are not rectangular but hexagonal prisms. If this Star Wars look is not for you, skip the Ubiquitous sets.
There are few instructions for Nova's Ubiquitous sets. Reviews also tend to skip the construction phase. If you make an error, you will have to take everything apart and that may be discouraging. Ubiquitous does offer instructions to build something but not everything. If you don't want what they suggest, then you are out of luck. I didn't want what they suggested. The booklet that comes with the sets are not very helpful. It's the same booklet for the main and the extension set. So, there are no extra guides. I decided to tackle the extension set first as it has less parts and in theory, enhances the larger one. What I needed was a backdrop for my action figure photography that was tall enough for 1:12 figures. So that's what I set out to build.
The diorama built with the extension set does not cover three sides and the floor. Speaking of floor, you'll notice that it has two layers, and so do the walls. There are vents on the ground. The exterior walls and the various coverings for the flooring and the walls also have two layers. There are a few types of connectors used to hold the pieces together. The set is sturdy, but it should rest on a stable and flat surface. It's not meant for rough play. Also, the weight on the flooring will not accommodate very heavy items. For example, when I get it, I won't put my Classified Hiss thank there.

The optional electronic kit allows the white plastic lights to display led-based lighting.
I spent about five hours to build this diorama. At first, it was taller, but I didn't have enough parts to balance the base. Because I had to shorten the wall, it means that figures such as the 40th He-Man do not loot as good. He-Man in particular, scales closer to eight inches rather than six inches. Some larger Transformers will be as problematic. Ditto for ogres from Mythic Legions. Yet, most of your 1:12 and 1:18 figures will look great. I wanted a surface that was wide enough to pose more than one figure, like a squadron of army builders. I did achieve that look with the base, even though I had to sacrifice some height.
The set looks generic enough. Collectors can use it with any sci-fi or adventure action figure line. Even the likes of Masters of the Universe and Mythic Legions will look great with this set. Some of my Kings Features figures with Flash Gordon and Defenders of the Earth will look great there too. Of course, this line shines with Star Wars, Gi Joe, Transformers, and superhero lines. It's not Transformers' gold, nor Star Wars' white, but it will look great, still. If you have other props, they'll look good and help you achieve a Danger room, a bridge, or a corridor.

One thing that matters to me a lot is that figures stay put and don't fall over when placed on the diorama. Well, most will be stable, but fallers or female figures with high heels will be a problem. There are gaps and holes in the floor. Since the edges of the walls are never 45 degrees, you can set an unstable figure's feet next to them to help.
Building and Construction
Some reviewers have complained of cuts on their fingers, so I used home furniture gloves. They were exactly what I needed to avoid straining nails or small injuries. Building the set was far easier than I thought, once I had an idea of what I wanted. If you are not the explorer type, avoid this diorama set. You must enjoy puzzles and Legos to spend time with this set. You'll need patience and the will to come back the next day to complete it. I started building the diorama on a Friday evening and continued it the next morning. Doing it this way allowed me to use dead time and not feel like I lost an entire day on this project.
There is a logic to the connectors and the build, so if you're minded for that, you'll enjoy the set. If you are more expressive and less Cartesian, this set may be painful to put together. Know yourself. It seems that in the past, there were parts with other coloured plastics, but no longer.
The set is in ABS plastic, but it's not meant for play with kids.
I'm happy with the results. There are a few pieces that I did not use, but they'll be perfect when I start playing with the full set next. I want to connect the room with the main bridge. There are no instructions for how to use the led lighting in the extension set.
That's odd as it easy to see that lights can brighten this diorama. To use the lighting features, you must add wiring to the insides of walls. Take that into account as you may have to break down your set to add wiring in your diorama.
The packaging is good, and all parts sealed in plastic bags. There are two cardboard cases in the box as well as dust jackets. I wish the pics were larger as it would have helped when I was figuring out what I would want to attempt to build.
The sets are expensive. The full set is $80USD and $65USD for the extension. In Canadian currency plus shipping, that's a lot. The company is very reactive to damages in sets and consumer comments. Yet, it may be tough to get support as they seem to only have a Facebook page and are Chinese speakers.
Big Bad Toy Stores get new shipments often. On Facebook, Nova mentioned that the cost of producing the set has increased recently. I'm glad that I have the set for toy photography and to look great on my desk.
I had a lot of fun with the extension set and thus, it should be easier to build something cool with the full one. This product is for serious collectors and not those who are not into building dioramas. It takes a lot of work before you can enjoy the diorama, so there is no instant gratification. It is better value than cardboard alternatives that look flat or mimic perspectives. It differs a lot from street or subway dioramas. This set does not look cheap at all.
Rating: 10 /10
Image Gallery:

Last Updated: February 24, 2023 - 08:56