Comics / Comic Reviews / More Comics
Transhuman #2
By Zak Edwards
May 12, 2008 - 16:26
Transhuman is a wonderful series, even at two issues in and ending in only a couple of months. This documentary-style series focuses on something closer to home than probably thought: human enhancement. Jonathan Hickman relays the story of the emergence of two companies with two types of technology used for human enhancement, while the first issue focused on the origins of the companies, Hickman uses this issue to focus on something much more sinister, getting the money to actually get these projects off the ground. Please note that Transhuman uses strong language.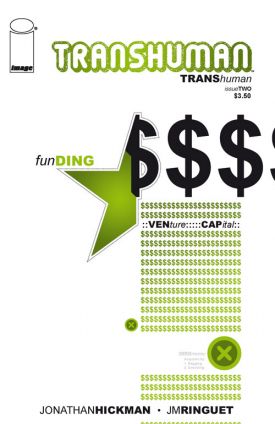 The narrator of Transhuman talks the audience through the difficult process of obtaining money for research and the involvement of venture capitalists in the science community. The reflection to today's exploitation of both the scientific and creative community becomes the theme of this issue, with venture capitalist easily being replaced with words like record label or publisher, while scientist becomes recording artist or author. The real world issues Hickman discusses brings a level of realism despite the occasional cyber-dog or Marxist telepathic monkey.
Transhuman is a very well done reflection on the world around us, using the very pressing issue of biotechnology as the template for how the western world is run, making this an important read. Hickman also plays around with the human relationships that form within these transactions, creating a barely visible aspect to the dealings between these characters. The offhand comments made by the characters add an obscurity to what happened, allowing for a questioning of the story which only helps a story about seedy business people. Hickman also has some humourous moments to help keep the issue from becoming too much of a complaint of the world, these moments are quick and actually quite dry and witty, keeping a sophistication to the story. The series continues strong again, not losing any of the greatness of the first issue.

Visually, JM Ringuet is once again left with little to work with. In keeping with a documentary style of storytelling, Ringuet is left illustrating the heads of aging scientists, venture capitalists, and other older professionals. The comic book is not visually appealing based solely on the script. Ringuet does add some flavour to the issue, but stays away from looking too animated in an attempt to create a more visually engaging comic book. This aids in the experience, an animated look would reduce the believability of the issue. The art works well with the series, trying to stay firmly planted in the real while maintaining a science-fiction approach. It is a pity the series is already half over.

9/10 An important read for anyone interested in the world around them.

If you would like to e-mail me your own thoughts and opinions, I can be reached at zak@comicbookbin.com with your mature comments and criticism.

Last Updated: May 19, 2020 - 12:25