The iPad and Comic Books
By Hervé St-Louis
January 29, 2010 - 22:52
I wrote a few months ago that Apple's iPad would not save the comic book industry and that if publishers relied on this device in order to prop up their sales an insure their survival that they deserved to fail. The iPad is not the second coming of the comic book industry. If comic book publishers can't figure out how to sell comic books without relying on a proprietary device, then they do not deserve to be in business and should let the way for others to innovate in the area of sales and distribution. It's a mistake to ignore the biggest asset of the comic book industry after its readers, the vast network of comic book specialty shops manned with experts who know the product and can easily sell large amount of merchandise and comic books if allowed. The revival and continuing health of the comic book industry cannot be built on the introduction of one magic device by a man wearing a turtleneck and who acts like he is Jesus Christ.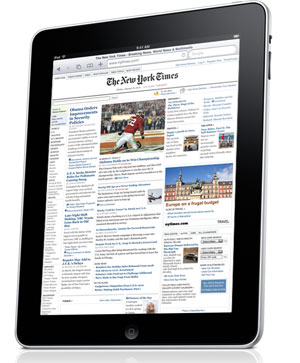 As I wrote months ago, there are already many other e-book readers on the market, including the Kindle from Amazon and the Nook from Barnes and Noble. Each retailer move large amount of comic books and graphic novels from their online stores every day. Just like the traditional comic book retailer, ignoring their contribution is a serious mistake. Part of the appeal of comic book reading and collecting is based on the artefact. If the artefact did not matter as much, Web comics would be more popular today. Web comics' readers are not your typical comic book readers. There are some overlaps, but overall they are from different market and socio cultural groups. However, the arguments in favour of the iPad are not usually aimed at Web comics readers who are probably closer to being the right target groups for a semi-e-book reader like the iPad.
Users who like to consume vast amount of Web entertainment and don't mind reading text and graphic intensive contents online are more suited to the iPad than the comic book reader who likes to bring his book to the washroom or on the bus. Yes, the iPad is a mobile device, but mobile users have short attention spans and use mobile entertainment in short burst. Reading a comic book requires a greater investment of time – several hours at least per week. The iPad was not designed for extended reading as it lacks proper e-ink technology, unlike the Kindle, the Nook or even the Skiff from the Hearst Corporation.
Comic book reading is like magazine reading, it requires a time investment and the electronic additions flaunted by the New York Times during Apple's introductory presentation of the iPad show a lack of understanding of their clientele. Video inserts in the middle of a magazine are akin to the half-based idea running wild in the comic book world about motion comics. Comics that mix animation and comics' graphics. The last thing a magazine or a comic book reader wants is electronic interruption while reading a pamphlet. At most, music will be playing in the background, but whenever the concept of an interface requiring interaction with a device while the reader is in deep reading mode just destroys the whole point of reading. To make it clearer, compare reading to deep sleep where dreaming is possible. To achieve that state the person must have come through a few lighter sleeping stages before the deep sleep experience can be achieved and dreaming be possible. Similarly, reading a book or a comic book requires some amount of concentration and quiet. Having interactive widgets off a backlighted screen is not inductive for proper reading prompting you to click links and videos on a page do not enhance the concentration necessary to read a comic book. If a reader wants to read material off a backlighted screen with interactive contents, why not stick to a Web site format?
However, in the case of casual Web browsing, where it has been demonstrated that readers do not read articles, but scan them quickly, a product like the iPad is interesting. Reading comic books require a little more concentration because of the closure effect between panels. Users must fill gaps between drawings in their minds when reading comic books. Can closure happen properly in a comic book with an extensive and complicated page layout, like the typical Marvel comic book published as iPhone-ready comic books and now available for the iPad?
Already there are arguments made that the iPad may not be the best e-book reader, but that because of its size and format that is naturally suited for comic book publishing. This ignores, as just mentioned that comic book readers create closure between panels and that unless the format of Web comics changes to minimize the amount of closure required, comic book reading on the iPad will not be smooth. Of course, vendors having invested already in iPhone apps will ignore this warning and enthusiasts waiting eagerly will brush off claims that their brains may have to work harder when they read a comic book on an iPad. The fact that colours can look so bright on an iPad and the full page format minimizing panel navigation like on a smaller iPhone is good news for any supporter and believer in the iPad. They will attempt to ignore warnings deep inside their reptile brains telling them that the reading activity they are doing could be much better with a printed media or on an e-book designed for real electronic reading. There's no stopping progress.
Last Updated: January 24, 2022 - 11:00