Comics / Comic Reviews / DC Comics
Review: The Wild Storm #4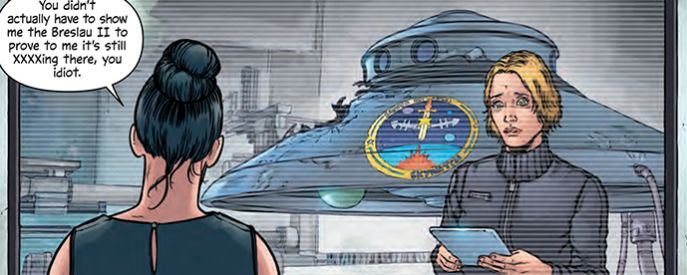 By Philip Schweier
August 4, 2017 - 13:46
It's a four-part story. Parts the first is our rogue Covert Action Team going to ground, without the high-tech armored suit they'd hoped to retrieve. Angie Spica escaped, and everyone wants her and her stolen technology.
Part the second is Miles, the leader of the group attempting to keep the high-tech armored suit under wraps offering a great deal of exposition while sharing wine with his husband. Cliché, much?
In part four, we have Mr. Bendix a sour faced individual (in more ways than one) who appears to be an alien of some sort, and would love nothing more than violate the treaties that keep him from enslaving the native-born inhabitants of Earth.
Finally, Miles returns to the center of his IO ops, and has a chat with one of his operatives who is dying from a brain tumor. What are the odds he's going to be offered an experimental procedure, or a suicide mission?
While I like the art, it continues to fall into that cinematic trope that works best on film, not comics. A slow dolly backwards to expose an entire location is awesome, but it takes up four friggin' pages.
Overall, not much action. Perhaps it's the calm before the Storm.
RATING: 4/10
Last Updated: August 31, 2023 - 08:12