Comics / Comic Reviews / More Comics
The Massive #8 Review
By Zak Edwards
January 21, 2013 - 18:02
Last time I wrote on The Massive, I complained about the seeming lack of cohesion between issues, that the sparsity of plot that mirrors the setting Wood has created was beginning to alienate me, the reader. Alienation, of course, can be a beneficial place to be, certainly many writers and artists work on the notion of alienation for their work and the idea here, in a world increasingly cut off from itself, would benefit from recreating the effect for its audience. But these past couple of issues, with their more coherent and dare I suggest story arc feel, are helping me remain engaged with this comic series, especially as this alienation effect, somewhat strangely, is deployed as an empathic connection between the reader and protagonist Callum Israel.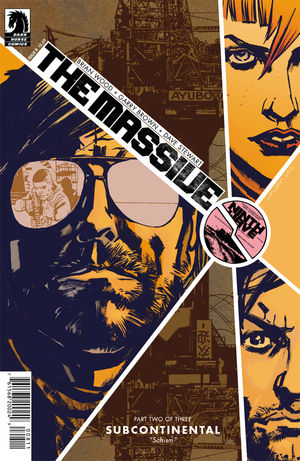 Callum's overarching goal is the location of the titular ship of the series, The Massive and, as Sumon discovers, the communication between Israel and his goal is tenuous. The ship has been giving off occasional radio communications while remaining aloof, unable to be pinpointed by the crew of the Kapital. But Callum's own assertion can only be confirmed through the opposite of knowable fact: madness. As he looks at his feet, Israel articulates a sort of distance even from himself and his own certainty, declaring "I know it. I've seen it." A pull back in perspective reveals he is now on his knees rather than sitting, inferior in position to those around him and, like everyone in this narrative, mortally aware of his inferiority to larger forces. Many of the forces here come by the inversion of power Israel is a part of: he is no longer in charge, it seems, of his own crew, and is only able to be protected by not knowing. He indeed, as Sumon points out, doesn't "know much... for such a smart guy." It seems this lack of knowledge, mostly coming from an inability to communicate, permeates the lives of the crew. The man on the ship lacks the conviction to follow through on the plans in place for a lack of communication, his friends are excused from a room, leaving only the girl who doesn't "stink like death" (communication, it seems, is uncontrolled in both what and how things are 'said'). The second they leave, the man becomes friendlier, valuing face-to-face discussion over the necessary covert talking of the black market. What The Massive is doing, both ship and series, is communicating a lack of communication, and the series is benefitting from giving these moments of confusion and lack of knowledge as places for readers to identify (notice too how this is the first issue without supplemental material in the back). The book is on a due course, that much is evident, and I'm glad Wood has given us a moment to identify with the place, characters, and narrative itself for future issues; issues I eagerly anticipate.
Grade: 9/10 Faith restored. Onwards.
Last Updated: April 9, 2021 - 22:22