Comics / Comic Reviews / More Comics
The Massive #4 Review
By Zak Edwards
September 10, 2012 - 17:38
I am a huge fan of Brian Wood's flawed if ingenious DMZ from Vertigo Comics, which is seventy two issues of some of the best post 9/11 fiction I have encountered. DMZ perfectly encapsulated fiction in that time while remaining relevant as we have gradually moved past an era where the fact was more terrifying than the fiction. Now, as Wood begins his next examination of the world around us with Dark Horse (and I hope this series goes on for a good, long while), I am eager to be here for the ride.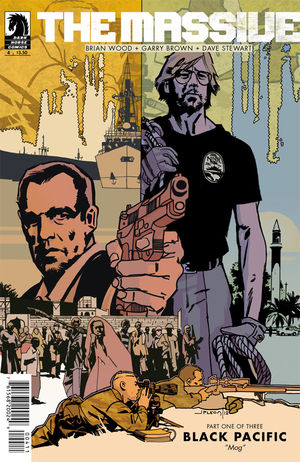 The Massive takes painstaking attempts to at least pretend to surmise what the world would be like after global weather disasters on an apocalyptic scale, but takes its time. With this issue, Wood gives us a bit more insight into Captain Callum Israel of the Kapital, the main boat of the series. Even if the plot remains thin (I really don't mind that Wood is taking his time, his character work is consistently wonderful), we are getting a character fleshed out, someone to hold onto in a book that can be as sparse as the world it describes. And Isarael is a compelling character, he compromises and holds fast from page to page while still coming across as consistent and believable. Rather than a former army man who can't stand guns, Israel is more than a one trick character and, if this is an indication of the rest of the core cast, I expect these will be characters I will look forward to reading about for the years to come.
As I said, the story remains sparse, the crew is no closer to finding the titular ship (I suspect they never will), but Wood's continual back up information, reminiscent of his design work I miss from the early DMZ covers, and obvious thought into world building makes this book one of the best on the shelves for people wanting to get away from the sci-fi, action-adventure train. Where DMZ was gritty in its 9/11 aesthetic, The Massive diverges and makes something more about a small amount of people in a larger space. The book feels like the spiritual continuation of DMZ while acknowledging we may be at something beyond what that timely piece discussed. It's actually exciting, The Massive feels like part of a new movement in literature in general.
Garry Brown's art looks so familiar it's almost eerie, but I love it. Dave Stewart's colours are familiar in their own right, and Brown's art could be easily compared to artists like Michael Lark, which is always a good thing. His line use in expression never overbears while his characters look distinctive and real, much like Wood's writing. While most of the issue takes place in a worn down city, Brown's cityscapes don't boast the expanse of the settings in previous issues, but it should be noted how deftly he can draw the ever-changing surroundings in a way that speaks to the devastation as being oddly unique and unifying. Overall, the book looks as good as it reads, The Massive is swiftly becoming a shining example of how Vertigo is dropping the ball when it comes to viable, creator-owned work.
Grade: 9/10 The Massive is on the forefront of what everyone will be writing like in a couple of years.
Last Updated: May 19, 2020 - 12:25