Comics / Comic Reviews / More Comics
The Green Hornet Strikes #5
By Hervé St-Louis
January 1, 2011 - 15:54
The future Green Hornet (he's neither called the Green Hornet yet and he's from the future) decides to leave a message to the city's crime boss. Elsewhere, the old Kato is still trying to recruit a new Kato for to replace and fight crime. Will the heroes ever meet, team up and stop the city's crime boss?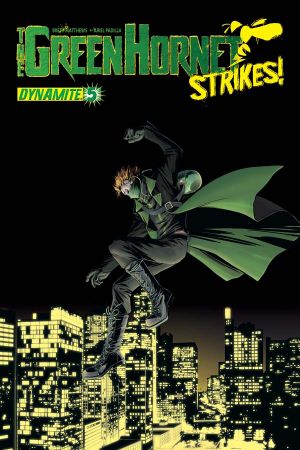 I like this series a lot. Matthews takes his time before he transforms the protagonists into the new generation of Kato and the Green Hornet. Of all the Green Hornet series from Dynamite Publishing, this one delves the most into the characters' mindset and is the most compelling read. It's also the one story that breaks the most from the Green Hornet's mould. I seriously wonder why this series wasn't chosen as the one that would reinterpret the Green Hornet for this generation. It's completely original and I'd argue that the old Kato's efforts to make the pair of protagonists meet and become the new Green Hornet and Kato is forced. It's not a criticism at all. It's just a statement, that the story is so good, that the part about the Green Hornet is not really necessary!
Padilla is a good artist. Never heard of him before this series but his work is fun to look at. There's a hint of manga in his work, but the inks are so strong and the characters so gritty that it feels like a light influence from Japanese comics.
Rating: 10 /10
Last Updated: September 6, 2021 - 08:15