Comics / Comic Reviews / Marvel Comics
The Amazing Spider-Man #567
By Hervé St-Louis
October 28, 2008 - 23:32
Spider-man, dressed as Daredevil attempts to rescue his roommate, police officer Vin Gonzales, who was captured by the Kraven the Hunter's apparent daughter. But before he can attempt a rescue on Gonzales, which Kraven thinks is really Spider-man, the real Spider-man must face Vermin, in the sewers of New York City. Can Spider-man make it out alive and rescue his roommate?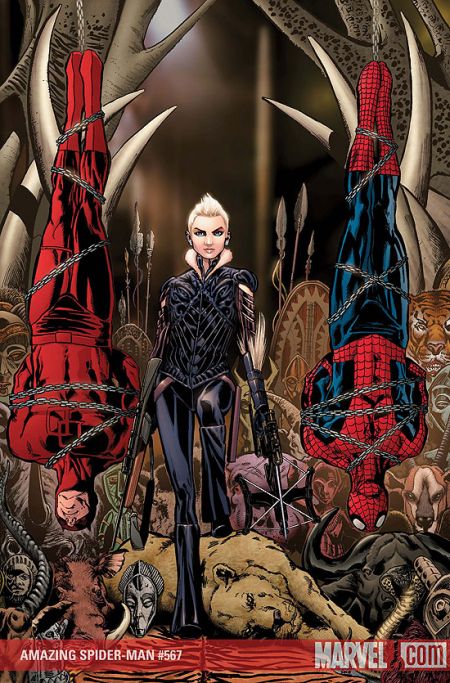 This was a fun issue, continuing a multipart storyline introducing a new villain in Spider-man's world and more trouble for his alter ego Peter Parker. Some people think Gonzales is really him and it adds another Spider-man-like dilemma that is the hallmark of the character's convoluted soap opera and miserable life. I love it! The new Kraven makes a dynamic entrance through this storyline and it seems that we'll more good encounters with her in the future. My only problem with this issue is the relative weakness of Spider-man in this issue. Is it that Gonzales was still full of drugs, which allowed him to slugger Spider-man so effectively?
There has been many times where I have not found Jimenez' work suitable for Spider-man. He's work feels better in epic stories with iconic characters. Spider-man is iconic, but not larger a god-like figure. Yet, Jimenez added enough grittiness to make this story entertaining visually and selling me on the idea that he could be a great Spider-man artist, if given the right story. This was his breakthrough and he impressed me.
Rating: 9 /10
Last Updated: January 24, 2022 - 11:00