Comics / Comic Reviews / More Comics
Teuton #1
By Tao Mori
Jan 29, 2011 - 12:07
The story of Teuton follows a group of Teuton knights in the country of Lithuania who are fighting the remaining Pagan kingdoms in the area. The central protagonist of the story is Andrus a scarred Teuton soldier of moderate rank among the Teutons. This story is loosely based on historical events, but has elements of fantasy and pagan witchcraft within it.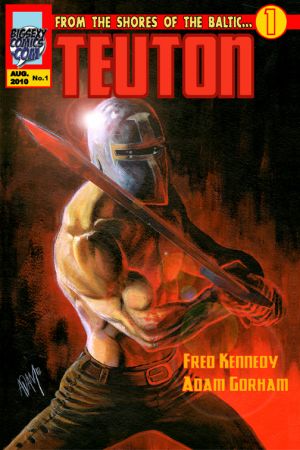 The beginning of this issue starts with the set up of Teuton, where we learn that the story takes place in Lithunia (a Baltic state that's west of Russia) where the Catholic soldiers are out to wipe out Pagans. There's an early issue in the beginning where we learn that the Teutons are being instructed to wipe out a group of Pagans that are holed up in a village, but the reason for their attack is to gain a relic that is holy to the Pagans. Andrus (the central character) is upset that the Teutons are fighting to take wealth as the original reason they had engaged the enemy was to stop the Pagans from attacking Teuton villages. Andrus is much more pragmatic character than Olbert, who is inspired by wealth and power.
What surprised me about this series was that they decided to include the Pagan's practice of magic. At first this series looked like it was taking a realistic approach loosely based on history, but then the inclusion of magic changed that. The Pagans call on their gods to possess one of the Teutons and turn him into a monster. In a conventional fight we can see that the Teutons are far more superior than their Pagan opponents, so it does make sense as to why Fred Kennedy would use magic as a means for these Pagans to resist the Teutons successfully. This issue does criticize the crusade movements of the past, by portraying the crusades as blood thirsty campaigns to crush opposing ideologies. For that reason some readers may not enjoy this series, but this does highlight how religion can often be used as a weapon to manipulate people into thinking that they are fighting for a cause that is larger than themselves.
This comic is an action/adventure story. The artwork is really well done though in black and white. The drawings are very detailed and well done. The fight scenes are also well detailed and somewhat gory such as the guy who gets his stomach cut open and his intestines pop out. The last panel in the first issue is my favourite where we see Andrus' eyes in the reflection of his sword. All in all not a bad comic, those that are sensitive to issues of religion may not like this comic, there are also a few panels with nudity.
Rating: 7.5 /10
Last Updated: Jun 26, 2018 - 9:28