Comics / Comic Reviews / More Comics
Ted McKeever's Minature Jesus Review
By Andy Frisk
April 22, 2013 - 21:32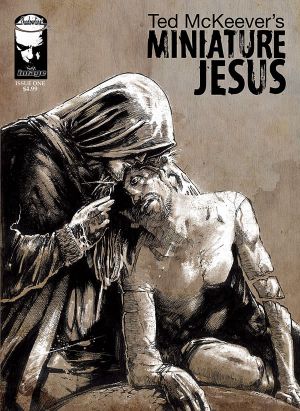 Chomsky (no not Noam-but with works of art like this everything is interpretable), is a recovering alcoholic who has lived through "twenty-six days of self-imposed incarceration," presumably in an attempt to sober up. His only companions being his mental recitation of Walt Whitman's "As I Ponder'd in Silence" and a dead cat. A dead cat that graphically, gorily, and, in the grandest of McKeever artistic traditions, morphs into an Egyptian mummified cat/deity. Having enough of that, Chomsky trudges across a desolate landscape filled with tempting liquor selling gas stations, menacing clouds, and the literal demon on his shoulder who constantly taunts him to fall off the wagon. Meanwhile, presumably across town, a preacher gives an impassioned sermon to a congregation of one child. "...I see ya' Lord! I know ya, Lord!" hollers the preacher...but when this story's namesake shows up, the preacher decides He's a spawn of Satan...one worthy of being stamped out.
No, you haven't wondered into Cormac McCarthy's first foray into sequential art. No, you've wondered into the wonderful world of Ted McKeever's surreal art and storytelling. A master of the odd, the ugly, and at times the transcendently beautiful, McKeever once again manages to create a story driven more by its art and atmosphere than it's sense and sanity. Highly interpretable, with a multitude of possible meanings swirling around in it as artfully as Chomsky's demon circles in on himself in one powerful panel, the first issue of
Ted McKeever's Miniature Jesus
is the kind of book that we used to see from McKeever (
Industrial Gothic, The Extremist
) back when Vertigo was producing work as good and edgy as this.
No doubt, McKeever's style and chosen subjects are often polarizing. Regardless, they are wells of imagery and varied meaning that derive their worth from their aforementioned lack of directness of meaning or exposition.
Miniature Jesus
does
have a coherent narrative though. It's one that could easily be rationalized as the hallucinations of an alcoholic going through withdrawal. That is up until one reads the last few pages. What occurs here is so odd, filled with implied meaning, razor sharp satire, and downright strangeness that one cannot help but wonder if the talking corpses of cats and demons comprised of Nazgul like robes and faces made solely out of large mouths might not exist only in the mind of Chomsky.
As interesting as anything McKeever has done in the past, and a steal at $3.99 (especially given its oversized format),
Ted McKeever's Miniature Jesus
will go down as more than just a cult classic.
Rating: 9 /10
Last Updated: August 31, 2023 - 08:12