A Look at the Shuster Award's French-Canadian Nominees
By Patrick Bérubé
April 3, 2009 - 05:15
The Shuster Awards recently announced their nominees for 2009. Like previous years, it contains French-Canadian creators and their works. So for all of you who skipped French class in High School, here is what the fuss is all about.
The most nominated are...
First of all, if you look at the list of nominations, one comic book keep popping up and it's Les Nombrils by Marc Delafontaine (best artist, best cover) and Maryse Dubuc (best colourist, best writer). The couple debuted their creation through Spirou Magazine and are now at their third collected volumes. The ''album'' is composed of interlocked one page humorous stories and is aimed at the tween and teen markets. Everything evolves around two very superficial teenage girls and their more naive and adorable friend. No plan is too treacherous as long as it keeps them in the spotlights. Each volume sold more than 100,000 copies in Europe and are considered best-sellers.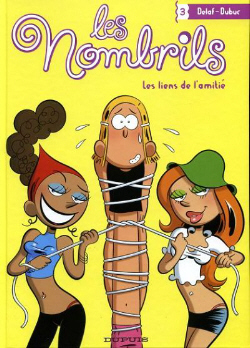 Marc Delafontaine et Maryse Dubuc both garner two nominations for their works on Les Nomrils
Best artist
Aside from Marc Delafontaine, another French-Canadian makes his way into the nominees of this category. Jacques Lamontagne is in nomination for his work on Les Druides from publisher Soleil. The series combines history and fantasy and tells the story of one of the last druid as he face a conspiracy by the Christian church. Since he is colouring his own work, he could have also been nominated for that and Lamontagne recently became a writer with Yuna. Keep an eye on him because he might be nominated in more than one category next year.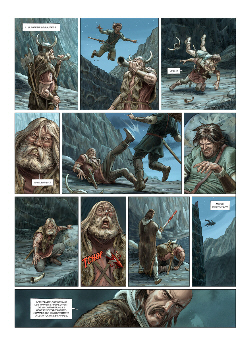 A page of the upcoming volume 5 of Les Druides
Best Cartoonist
Next on the list is the best cartoonist categories which sees three French-Canadian nominees. Grégoire Bouchard is the first one and when he was recently not selected for the Bédéis Causa (the award given at the Quebec City French comic book festival) it created much fuss online. Many wondered why and openly said so over at the BDQuebec.com forum. Nevertheless, Vers des mondes lointains is a very good science-fiction with retro-design just as I like it. It is published by the Swiss based Paquet. Another of the nominee is Francis Desharnais. His comic book Burquette created quite a buzz last year when it came out because a) it is good and b) because the plot evolves around an intellectual father forcing his daughter to wear a Burqa to ''open up her mind''. It is actually very funny and well done. The last but not the least in this category is veteran Jean-Paul Eid. His latest comic book Des tondeuses et des hommes reprint almost everything he did in the humour magazine Croc from 1984 to 1995. Even if some of this work has more than 20 years, it looks like it could have been done yesterday. Life in the suburb never looked so funny with his anti-hero Jerome Bigras and his tamed lawnmower.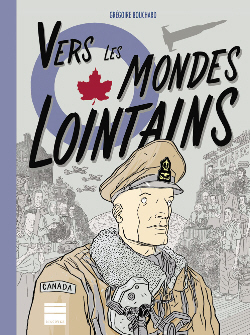 Grégoire Bouchard is nominated for Best Writer for Vers des mondes lointains
Best Cover
There are three French-Canadians nominees in this categories. Les Nombrils by Marc Delafontaine was mentioned above. Next is Niko Henrichon. You might know him from his work on Pride of Bagdad with Brian K. Vaughan a couple of years ago. He also did a couple a Machine Man issues but he his now also publishing in Europe. To my knowledge, Hostile was his first work for European publisher Dupuis and is a science-fiction/adventure comic book. I have not read it so I can't tell you much more. The last French-Canadian nominee in this category is Philippe Girard for Les Ravins, a travelog of his recent journey into Russia. Not that I did not like this comic book, but the cover never struck me as ''outstanding''.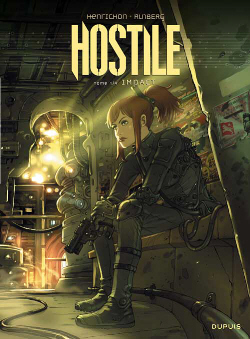 Niko Henrichon is in nominatin for his cover of Hostile volume 1
Best Colourist/Best writer
François Lapierre is nominated in two categories. First for best writer for a short story he did in the Contes et légendes du Québec anthology. It's only after I saw his nomination that I went to my public library to read his work and it is indeed very good if not a bit short (six pages) to be nominated in such a category. His second nomination is for his ability as a colourist on the above mentioned short story and for Magasin Générale volume 4. You can find my review of the first volume here.
Last Updated: September 6, 2021 - 08:15