The Bin in Second Life!
By Beth Davies-Stofka
January 21, 2009 - 16:52
Last October, The Comic Book Bin teamed with the Center 4 EduPunx and the Institute for Comics Studies for a day-long Comic Con held entirely in Second Life. The Met@Morph Second Life Web-Comics Con and Conference attracted participation from a mixture of scholars and professionals largely from the United States and Canada, but also from Wales, Spain, and even South Africa. We also had participation from several Second Life natives, such as Sabine Reljic of the Second Life Social Presence Center, and Botgirl Questi, an artist who uses Second Life as source material for her comics.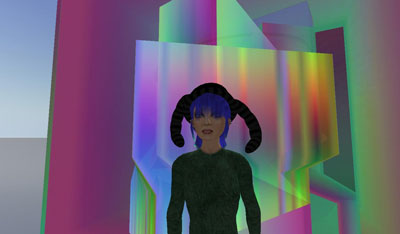 The Emcee of the event, Michigan Paule. Beth Davies-Stofka for you landlubbers.
The day-long
Met@Morph
event began with a call to meeting from Hervé St-Louis, owner and publisher of The Comic Book Bin. After this important formality, we dropped all pretense of good behavior and started having fun. The Kool-Aid Man ran through the crowd. Avatars battled with swords and sabers on the ground and in the air. Avatars new to Second Life were taught to "Make like an Action Figure!" and emulate superheroes by flying, leaping onto clouds, and teleporting. Sabine Reljic and her colleagues from the Second Life Social Presence Center teamed with members of the Center 4 EduPunx to lead the activities. We learned about Second Life physicality, which, although more or less respectful of others, is unrestrained by the normal constraints of physics and gravity.
This is the best part of having a comic con in Second Life. All that fun stuff you see at a real world con, like costumes and play-acting, is just that much more amazing in Second Life, where we can do a lot of things that are not possible in real life. One presenter had difficulty with a DSL line that was bouncing. Several times during his lecture, he vanished from the stage! One audience member jokingly noted that this would never happen at a real life lecture, and we began spreading rumors of the rapture. At another point in the day, the entire island vanished when Second Life underwent an unscheduled restart. Never would the entire cosmos disappear and reappear during a presentation!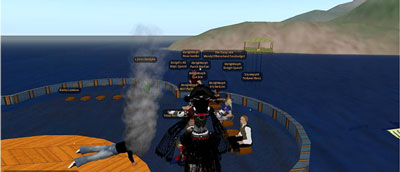 Never a dull moment when heads are exploding.
Another participant kept the group hugely entertained by repeatedly blowing up his head. His head would explode in a flash of orange fire, and that was very funny, but that wasn't all of it. He would also drop to his knees with a huge column of smoke rising from his shoulders. And then he'd fall flat. When he was ready, he'd stand up, head restored, and do it all over again. This simply never stopped being funny!
The Con was held on the Front Range Island in Second Life. Front Range has a floating auditorium with a giant flat-screen TV, where a number of participants gave presentations accompanied by slides showing selected comic and cartooning art. Second Life has live audio capabilities, so we were able to hear as well as see these presentations. The ability to hear the speakers was a big hit with the assembly.
At the mid-day session, everyone gathered for a roundtable discussion about college comics courses. Which comics belong on the syllabus? Should students read secondary sources as well as primary ones? What does it add to teach cartooning? Is a comics course a literature course, or an art course? Which department gets to list it? Which faculty member gets to teach it?
Participants were amazingly opinionated about these questions. Everyone talked at once, using both the text chat and the audio channel. Since participants were at their computers, it was easy for everyone to post sample syllabi, reading lists, and book recommendations. It's really wonderful to find out how many people have taken a college course in comics.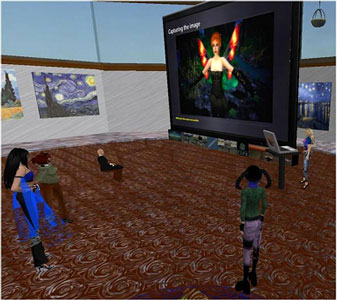 Botgirl gets Michigan talking about religion and porn (again).
Front Range Island has a three-story circular art gallery, and we spent the afternoon in the gallery with comics artists. Web cartoonist
Tim Volpe
took the floor for an honest and open discussion of his work, his creative process, and the history of his use of digital media to create comics.
Anthony Fontana
discussed the challenges of using Second Life to market comics, an activity which Fontana has pioneered and which is still very much in its infancy.
The Queen of the event,
Botg
irl Q
u
esti
, gave a fascinating presentation about boundaries and relationships in Second Life. Questi is an anonymous artist who works in Second Life. She uses Second Life itself as the material for her comics, and tells stories that probe human and avatar relationships. Questi is creating and embodying a brand new comics paradigm right before our very eyes. While perhaps it is not yet recognized, Questi's work threatens to have an historic impact on the comics medium.
Pete Coogan of the
Institute for Comics Studies
ably summarized and concluded our Con, but it didn't end as scheduled. Some of us decided to stay and play, and more sky dueling ensued. The art gallery saw a lot more traffic, too, something worth noting. At our next three events, we're looking forward to displaying samples of artists' works. One of our presenters called the day "pioneering," and we certainly hope it was. We had a lot of students at this event, and needless to say, the day was invaluable for them.
We know for sure that it was a lot of fun, and not at all boring. The Bin will be continuing the tradition, holding three events in Second Life in 2009:
March 18: The half-day
Minimorph
Second Life Comic-Con.
July: The
Neomorph
event, currently under wraps, will unveil.
October: Our second annual
Met@Morph
will convene in Second Life in October.
Watch these pages for details! And send questions or ideas to
beth@comicbookbin.com
. We are deeply interested in displaying selected works of web comics artists in the gallery on March 18th, so drop a line if you'd like to exhibit with us.
Last Updated: September 6, 2021 - 08:15