Getting Used to Second Life
By Beth Davies-Stofka
September 30, 2008 - 12:03
We're looking forward to meeting many of The Bin's readers at our
Web-Comics Con and Conference
on October 3, 2008. It's free of course! All you need is a computer and speakers, and a microphone if you like.
The official Con name is Met@Morph, and you are cordially invited to join the Met@Morph network. The Comic Book Bin and the Center 4 EduPunx are preparing to launch Met@Morph as an annual event, and we'll explore different immersive environments in the next few years, always looking for the best and most innovate creators, scholars, and teachers of web comics. We want your participation, input, and leadership!
This year we are meeting in Second Life.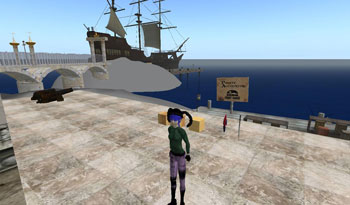 Michigan Paule, one of your Comic-Con hosts, poses in front of a pirate ship.
Here are some helpful hints and activities to help you get comfortable in Second Life, if you aren't already.
Go to the Second Life homepage to create an avatar. Note that Second Life is a loose association of "islands." The Con site is the Front Range Island, which is private. We'll make it public on October 3. On that day, type Front Range in the search box and teleport, or use this SLurl.
Here are two blogs that list many useful tips for navigating, communicating, and otherwise mastering the Second Life client:
Lists of favorite Second Life Tips.
The orientation walk-through at the Second Like Wiki.
Another great place in Second Life is the Science Friday Region. Science Friday is a weekly science program on National Public Radio, but the region is always open for visitors. When you visit the main terrace, you'll receive a note card that contains some of the most precisely-stated and useful tips I've ever picked up!
In the top-most right corner of your Second Life screen, you'll see a tiny search box. Type "Science Friday" (without the quotes) and click the hourglass. A window will pop up with a list. The first item in the list is "Science Friday." Click on the orange arrow next to it. You'll be teleported to NPR's Science Friday island. It's a beauty! Explore to find the main terrace.
If you visit Fridays from 11am to 1pm Pacific Time (Pacific Time is also Second Life time), you can participate in a live broadcast of NPR's popular weekly radio show.
If you're looking for even more assistance acclimating yourself to the Second Life environment, then watch Torley Linden's well-known Second Life instructional videos on YouTube. Here's a helpful selection:
---

How to change appearance
---

How use the mini-map
---

How use the chat bar
---
If you have questions, you can email Beth Davies-Stofka at beth@comicbookbin.com, IM her inworld (Michigan Paule) or use the discussion feature right here. We're here to help you make your Met@Morph experience a delight!
Last Updated: September 6, 2021 - 08:15