Comics / Comic Reviews / DC Comics
Review: Scooby Apocalypse #25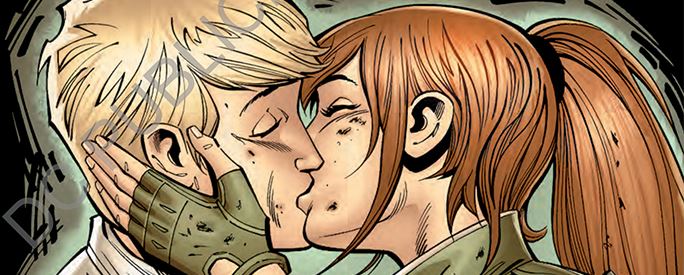 By Philip Schweier
May 9, 2018 - 04:54
Fred and Daphne are trapped behind enemy lines, having gone to recon the Consumerites. Now matter how many battles between the two factions there may, it seems as if their numbers never decrease. Finding out why is a two-person job, leaving Velma and Shaggy behind. They also serve, who stand and wait.
But when Fred and Daphne need to battle their way back home, it's going to be a bigger challenge than either of them is up for. Amidst all this is their ongoing bickering in light of their recent engagement (see last issue). But will their first spat as a couple be their last?
I sometimes find the artwork in this series to be a little uneven. Perhaps part of that is due to the variant characters from the Scooby franchise being rendered by different artists, although there is an overall consistency. But this time around, Ron Wagner seemed to put forth extra effort where it was needed, and made the art as poignant visually as the narrative required.
I'd believed this series to be somewhat limited, though recent developments have convinced me otherwise. As the cast evolves and events transpire, I realize Giffen and DeMatteis are capable of sustaining the premise in a variety of ways, rather than simply building on a single foundation.
Rating: 7 /10
Last Updated: January 24, 2022 - 11:00