Comics / Comic Reviews / Marvel Comics
Runaways #29
By Zak Edwards
February 28, 2008 - 12:54
Having a comic book be delayed is usually a negative thing and Joss Whedon's Runaways arc is not benefitting from the delays it has encountered. The main reason for this is that I had to go back and reread all the previous issues of his run and be reminded of the rollercoaster of quality Joss Whedon's writing has been. Michael Ryan's pencils have been the only constant of this arc, which steals heavily from "Back to the Future." But this issue specifically is on the better side of quality for Whedon's run, suffering mostly from past mistakes over creating new ones.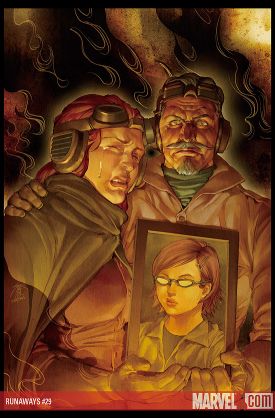 The Runaways are stuck in the past, filled with differing views but also filled to the brim with characters who are complete copies of present-day characters. There is a version of the Kingpin, a strange sort of Iron Man character who is little more than marginal comic relief, the list can go on. But the title is benefitting from the original characters Whedon has placed in his unoriginal world. Klara, the girl whom Whedon has used to contrast both the Runaways contemporary views and Molly, proves to be very interesting. She challenges the group with her morals and code of ethics that leads her down a path that is very much disagreed with in contemporary society. The growing relationship between Molly and Klara works to bring out the differences in thought, yet these girls may not be too different from each other. Klara represents a Molly who considers her words before speaking, something she has yet to master. Lillie and her developing relationship to Victor is one that may create a less predictable storyline. If there is something to be said about this issue specifically, it is that the story is becoming less predictable, which will serve it positively in the next, concluding, issue. Whedon has raised some complications, raising tensions of the society he has put the Runaways into a gang war of sorts. The first blood spilt held little feeling as the characters were not that evident earlier on, but their significance to other characters can be felt. These complications may be rushed with only the one issue left before Terry Moore of "Strangers in Paradise" fame takes over. Overall, Whedon is finally getting away from the predictable and utilizing his characters that he actually invested in creating rather than simply reiterating. The concluding issue may be something that will actually be very enjoyable, when it reaches the shelves.
Michael Ryan's expressive and colourful art fits this series so well. His pencilling duties also end with Joss Whedon, so he will be missed. As I said earlier, Ryan's art has been much more consistent than Whedon's scripts. His characters are very expressive without crossing the line into comedic, fitting the humour style the series possesses very well. Runaways delivers great one-liners rather than physical comedy, so his grounded style works to laugh when appropriate. His care in other scenes works as well. The falling petals of the flowers present in the fight between Molly and Klara had potential to come across as cheesy and unoriginal, but Ryan gave the panel a subtlety that keeps the scene genuine. His action sequences work well also, with his beautiful two-page spread of the gang war being very colourful and jammed packed with almost every character in the story so far. Ryan's pencils are perfect for this title and his consistency is a relief.
7/10 This issue is very well done, but the previous issues still have problems that carries over.
Last Updated: May 19, 2020 - 12:25