Review: The Wonderful 101
By Sean Booker
September 22, 2013 - 21:44
The Wonderful 101 is simultaneously the best Power Rangers game with all the insane Dragon Ball Z style powering up matched with incredibly frustrating gameplay. It's an odd idea to recommend a game that you hated playing. It's the presentation and the humor you'll experience in this game that makes it such a treat to go through. The game and it's story is so over the top that I was hooked and laughing aloud the whole time. This makes it a real shame that when you're working through it the core gameplay it isn't very fun.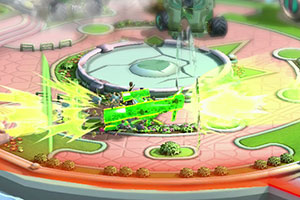 I really enjoyed The Wonderful 101 but it is a flawed game. The main gameplay is a standard beat-em-up. You control a group of fighters called The Wonderful One Double-Oh by turning them into various weapons to fight with. Working your way through each stage will allow you to recruit many civilian troops to your team in order to create bigger and stronger attacks. You have a great selection of weapons to choose from but actually fighting off the enemies isn't really that fun. You will find yourself button mashing for the most part and sticking to only two or three of the ten plus weapons at your disposal. Considering that each level you play is quite long, and the lack of a checkpoint system, fighting your way through boring combat repeatedly is incredibly infuriating.
The game is also quite punishing with this combat. You can die quite easily at the beginning and the ways the game wants you to tackle each enemy isn't often stated up front. There were a number of cases where I just got lost in what I was supposed to do. You can usually muscle your way through each fight but this causes the game time to increase substantially. This will get frustrating but if you're the type of player who enjoys incredibly difficult games, this will easily scratch that itch. One great upside is that the game understands what it is asking of you. Every time you die you will respawn directly where you were with the enemy and it will have the exact same amount of health. Apart from going for a platinum/perfect score on each level, there really isn't a penalty for playing poorly.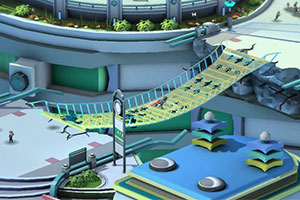 It's this annoying combat which makes The Wonderful 101 such a weird case because everything else in the game is fantastic. Each of your teammates will represent a different color (much like the Power Rangers) along with a unique personality. The characters are great and the performances delivered by the voice actors matches well. Even the mouths of the characters on screen seem to deliberately not match the dialogue, similar to old, poorly-dubbed samurai movies. Along with this you'll find that the game continues to ramp up the enemies causing The Wonderful One Double-Oh to also have to continue powering up their attacks to new and ridiculous heights (similar to the insanity found in Dragon Ball Z). Some of the fights will even have still images placed over top the screen in order to tell you more about this world's bizarre backstory while you're trying to fight. This game poses a number of reasons to see just how wacky it can get.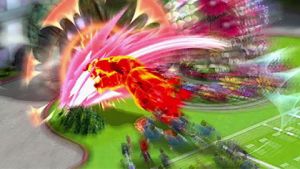 The Wonderful 101 is also very self aware of how weird its universe is. Many characters will point out how strange these circumstances are and will often play off many stereotypes you would expect to find from silly Saturday morning cartoons. Attack names are far too long, the weapons get bigger and bigger and the robots and mechsuits become more and more absurd. It's this devotion to these themes that makes The Wonderful 101 is really hilarious game. In fact, I might say that it is personally one of the funniest games I've played; I found myself laughing aloud a great number of times.
The game also has a pretty long length to it, clocking in around twelve to fourteen hours. However, it's designed to go back and increase your score while trying to perfect each stage - not a surprise considering the design team behind it. There is also a mission mode if you want to buckle down and really get deep into the combat. Each stage will also reward you with currency for the in-game shop. A lot of the upgrades are really useful and practically required. Some items you can purchase include the very much needed block, counter and dodge abilities. Others include ways to traverse the stage more easily, have stronger attacks, etc. There's a lot to unlock in the game so if you put in the time with the combat, there's definitely enough to reward you.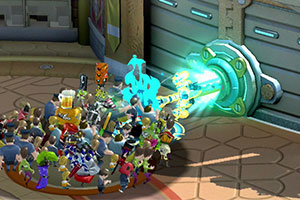 The combat in The Wonderful 101 is beyond frustrating and caused me to leave the game annoyed a number of times. It's the presentation, the humor and the commitment to this wacky, weird, Saturday morning cartoon look and feel that kept me playing. A lot of this game isn't fun but the pay off with each successive cutscene makes it worth it. If you're someone who loves a mean game, this has you covered. For the rest, I still recommend knocking the difficulty down to Very Easy and experiencing what this game is. There is really a lot of charm and heart to be found in this game and I'd recommend muscling through the tedious gameplay in order to see it.
Rating: 6 /10
Last Updated: February 5, 2023 - 09:06