Comics / Comic Reviews / DC Comics
Review: Savage Things #8

By Andy Frisk
October 18, 2017 - 21:38
I can't say that the characters in Savage Things can be called dynamic. They really don't change at all throughout the course of the tale. Writer Justin Jordan does something just as interesting with his creations though. He reveals them to be of one mind then reveals them to be of another. Is a sense of nobility or revenge Abel's motivation? Or is it revenge? Is Cain the cold heartless killer with absolutely zero empathy and depth of character? Or is there something resembling humanity buried in his deepest heart of hearts? The answers to these questions are not obvious and remain highly debatable, even with the final chapter now being completed. Savage Things wasn't a perfect mini-series, but it was a horrifyingly frightening, exhilarating, and just plain great.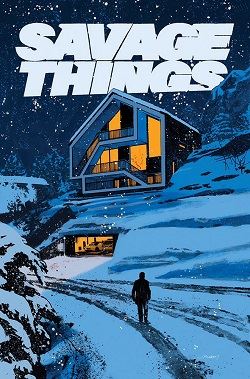 This tale of psychopathic trained government killers would not have been as stark and visually sharp without artist Ibrahim Moustafa's work on the series. His thick ink lines and realistic anatomy and facial expressions drove home the gritty realism that drove this series. I love detail in sequential art, and sometimes Moustafa went very minimalist on the background details. As the series progressed though, I discovered that Moustafa's lack of background detail in many panels allowed for series colorist Jordan Boyd to use his color selections to create and enhance the various character's moods and states of mind, enhancing and moving beyond Moustafa's facial characteristics. It was such a subtle artistic touch that it almost, pardon the pun, blended into the background. Boyd's colors are just as integral to telling Jordan's story as Moustafa's pencils were.
Savage Things
might be over, but great tales deserve great second chapters, and Jordan leaves things open for another round of
Savage Things
. I sincerely hope there is one.
Last Updated: September 6, 2021 - 08:15