Comics / Comic Reviews / More Comics
Review: Saucer State #2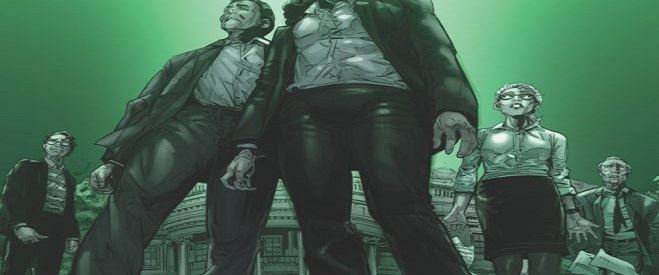 By Andy Frisk
July 18, 2017 - 22:42
Back in 2012 writer Paul Cornell had a short lived Vertigo Comics series titled Saucer Country where he told the story of Arcadia Alvarado, the Governor of New Mexico who was running for the Presidency of The United States and was an alien abduction victim...or was she? The series was smart and played smartly off of immigration and pop politics as well as sci-f and UFO mythology. The series had great potential and was, of course, cancelled. Happily, here in 2017, the series is back under a new name, Saucer State, and at a new home: IDW Publishing.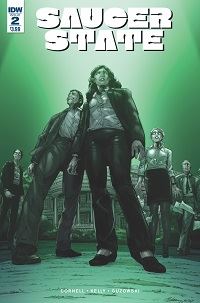 Gov. Alvarado has won the presidency and is suddenly faced with a possible alien invasion. It appears Cornell is clearing up the existence of the extraterrestrials pretty quickly, but there is still plenty of mystery as to their definitive shape (they seem to appear to different individuals differently) and purpose. Everyone from the old series is back, including Alvarado's feisty campaign managers and consultants, as well as her well meaning ex-husband. Cornell has upped the ante on the political satire though by bringing in everything from a Donald Trump stand in to addressing right wing religious extremism and the Black Lives Matter Movement. With a premise that is rife with satire, allegory, and metaphor and a writer as gifted as Cornell, this series could really be phenomenal. Issue #2 seriously set the stage for a great story.
Series artist Ryan Kelly has a huge task before him since
Saucer State
is comprised of a wide array of varying subjects and locations. Kelly makes it all look easy though as he masterfully renders each local and the varying people (and beings) that inhabit Cornell's story. I can't wait to see what he comes up with under Cornell's storytelling direction in future issues.
If ever short lived series with this much potential deserved a new lease on life, its this one.
Saucer State
is going to be the book to watch over the next few months (and hopefully years).
Rating: 9 /10
Last Updated: May 19, 2020 - 12:25