Comics / Comic Reviews / More Comics
Review: Immortal Brothers The Tale of The Green Knight
By Andy Frisk
Apr 16, 2017 - 20:11
An adaption of the late 14th century Middle English poem,
Sir Gawain and The Green Knight
,
Immortal Brothers The Tale of The Green Knight
#1 is the first in what will hopefully be many tales featuring the adventures of Gilad, Ivar, and Aram of the clan Anni-Padda (as well as previous incarnations of Archer) as supporting characters in historical dramas and romances.
The original Valiant venture in the 1990s made pretty extensive use of Gilad in an historical context. Nearly every issue of
Eternal Warrior
started out with a scene featuring Gilad in some historical period living through events that held relevance, even if only tangentially, to his current adventure, and tales featuring Gilad, Ivar, and Aram's adventures throughout history were common, and incredibly well done. This is something that endeared the characters to their readers and something that Valiant 2.0 has, sadly, made much more sparse use of. Long time Valiant fans and readers will fondly remember the 8th issues of
Eternal Warrior
and
Archer & Armstrong
that crossed over and told a tale of the brothers and Archer as Musketeers in early 1600s France. With
Immortal Brothers
, there will be new fond memories to be forged.
Written, as well as adapted, by Fred Van Lente (
Archer & Armstrong
,
Generation Zero
), and drawn by Valiant mainstays Cary Nord and Clayton Henry,
Immortal Brothers
is a great, and rather accurate, adaptation of the original story, notwithstanding the smart twist in the overall mythos that Van Lente injects into it. These are the types of stories that the Immortal Brothers are just perfect for starring in. Van Lente makes great use of each of the character's unique quirks and abilities, as well as personalities, and the historical/mythical characters they stand in for are absolutely perfect. By telling the story as a frame story that is being related by Archer to a sick and bed ridden Faith, Van Lente is allowed to infuse the tale with even more humor that the original contains, and allow for Archer to engage in some meta-fiction of his own. As always, Van Lente is brilliant, funny, and poignant all at the same time.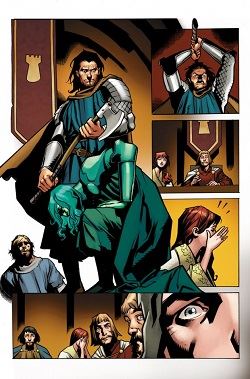 With Cary Nord and Clayton Henry each drawing the frame and the Archer related story, a smart balance exists between what is to be considered the contemporary setting and the mythical/historical one. Both artists are brilliant in their own right, and the differences in their styles reflect both the "real" and "mythical" perfectly. Each is suited to their artistic part just as succinctly as Van Lente is for the telling of the story.
With
Eternal Warrior Awakening
on the horizon, it looks like we are going to get some more great historical period period pieces starring Gilad. While the Eternal Warrior might be enjoying a bit of afterlife rest time, as shown at the end of
Wrath of The Eternal Warrior
, it looks like his legend is going to live on.
Rating: 10 /10
Support this writer on Patreon
Last Updated: Jun 26, 2018 - 9:28