Review: Game & Wario
By Sean Booker
Jul 2, 2013 - 19:39
Game & Wario takes everything great from Nintendoland as well as everything interesting you can do with the WiiU's unique control scheme and comes up with the best game we've seen to date on this console. The game makes you use the gamepad and TV together in creative and clever ways. And whereas Nintendoland felt more like a proof of concept, Game & Wario pushes each idea in better and more dramatic directions. All of this is held together with a funny and delightful sense of humor that makes this game a must buy for any WiiU owner, especially at its cheaper-than-normal price point.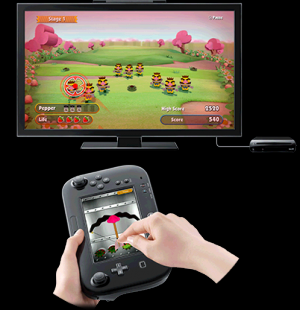 For those familiar with the Warioware series, they will be in for a bit of a surprise as the developers have switched out the 'microgames' for more fully fledged mini games. Instead of a lighting round of two second challenges to play through, you now have sixteen different, longer games to play one at a time. Each mini game plays quite differently that the last and can range from drawing on the controller, waving and tilting it around to even driving and shooting-like challenges. Along with this, each one will feature an additional mode or at least several different difficulty levels and stages to play through. This allows the mini games to entertain for much longer. It should also be noted that a lot of the past Warioware games are actually included in one of the mini game options for those looking for a more traditional 'microgame' experience.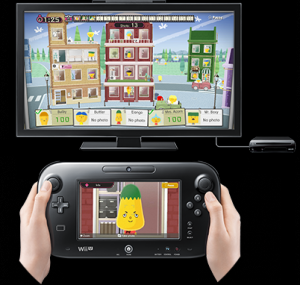 Up until now, Nintendoland (the packaged in mini game collection) made one of the best arguments for the WiiU's unique controller and gameplay modes. More often than not we have only seen the handheld screen being used as a duplicate of what the TV showed; or at best a map of the area you're exploring. It felt entirely like just a side thought and nothing crucial to the game. Game & Wario changes that by adding in some of the best gameplay I've seen on this system with the two screens. The various games will have you (and your multiplayer partners) hold, wave and use the controller in some incredibly interesting ways. For example, the Fruit mini game has someone playing on the gamepad in order to navigate an area full of other computer players. The rest of the humans playing need to simply watch the TV in an attempt to locate the player with the controller. It's up to the gamepad user to try and blend in with the surrounds while the other humans view a top down overworld area to make their moves. It's this two screen dynamic that actually gives reason to have a display in your hands. With a library completely dry of any interesting use cases for the WiiU's gamepad, Game & Wario shines very bright.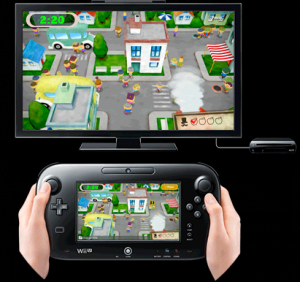 There are a total of twelve single player games and four multiplayer games to go through (though some of the single player ones will have multiplayer options). It's refreshing to see that the smaller multiplayer section has just as much interesting gameplay as the core game does. In fact, some of my favorite mini games were found in the multiplayer. A lot of these games can be played with up to five players but some can easily allow additional people to join in on the fun.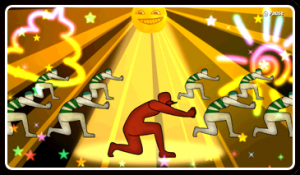 Playing through any of the games will unlock coins that can be used to randomly unlock extra content. This content is bizarre and weird (something any Warioware fan will be quite familiar with) and can range from weird phone-tap dialogue scenes to shy human-like animals telling you to "stop looking at them" before sending you back to the menu. These little additions make for a great excuse to really dive deep into all the mini games and try to unlock everything. And doing so alongside the game's wonderful sense of humor makes for a great time. Players will easily recognise past franchise characters found throughout. Even with only sixteen different games to play through, the extra game modes and stages actually give you a great amount of content, especially when you consider how this game is $20 less than the standard price. If you're trying to unlock everything, these mini games are anything but short.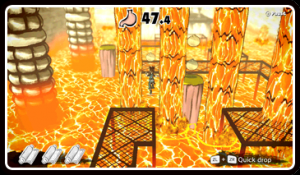 It may seem hyperbolic but Game & Wario is the best WiiU exclusive game out there. Never before have I seen this strong an argument for why someone should own this system and play with this unique controller. The way the gamepad and TV play off one another, and how the multiplayer is incorporated in truly great and interesting ways, is really fantastic. Game & Wario is fun and very funny the whole way through and it's easy to pick a number of mini games to be your favorite. There's a lot of weird and fun additional content to unlock and the cheaper price points makes Game & Wario a no brainer for any WiiU owner.
Rating: 10 /10
Last Updated: Dec 19, 2017 - 22:52