Reign Over Me
By Mitch Emerson
March 23, 2007 - 18:52
Title: Reign Over Me
Starring: Don Cheadle, Adam Sandler, Saffron Burrows, Jada Pinkett-Smith, Liv Tyler
Directed By: Mike Binder
Produced By: Michael Rotenberg, Jack Binder
Genre: Drama
Release Date: March 23rd, 2007
MPAA Rating: R for language and some sexual references.
Distributors: Sony Pictures Releasing
In Columbia Pictures' new drama Reign Over Me, former college roommates Charlie Fineman (Adam Sandler) and Alan Johnson (Don Cheadle) meet up again by chance on a Manhattan street corner. Five years after losing his family on 9/11, Charlie – once a successful dentist – has retreated from his life, and Alan is stunned to see the changes in his formerly gregarious friend. At the same time, Alan – who should be enjoying his beautiful wife, children and career – is overwhelmed by his responsibilities. Their rekindled relationship becomes a lifeline for the two men, who are both in need of a trusted friend at this pivotal moment in their lives. Reign Over Me was written and directed by Mike Binder (The Upside of Anger).

I think you should see this movie. Yes, you. Even if you aren't an Adam Sandler fan you should see this movie. Mike Binder has given Adam Sandler the perfect chance to prove that he can do something besides comedy and quirky dramas like Punch Drunk Love. And Sandler delivers what just might be an Oscar worthy performance in Reign Over Me. Which is the the only problem. See, Sandler fans are not the target audience and yet the target audience probably won't want to see this because Adam Sandler is in it. That's why you should take my word for it and go see this great film that is a wonderful departure from Sandler's standard fare.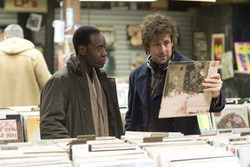 I won't sing too many praises about Sandler because I know that A – Every other reviewer will and B – I happen to like Don Cheadles performance a just little bit more than Sandler's. I know that some will disagree, but Cheadle is the one who has to deal with Charlie and bear the brunt of the two-sidedness of their friendship while also trying to deal with a woman who wants to be more than a patient, a strained relationship with his own wife and the death of his father. If it was me, I would snap like a twig under the foot of an elephant. Not to push Sandler aside because there a couple of strong emotional scenes including a court scene where an asshole lawyer ( BJ Novak of The Office) puts a picture of Charlie's family right in front of him and causes a psychotic episode that is heartbreaking, but there are just too many cast members to go into detail about. Here are a few examples. Liv Tyler, Jada Pinkett-Smith, Donald Sutherland, Robert Klein, Saffron Burrows, BJ Novak, Melinda Dillon (A Christmas Story and Close Encounters), John de Lancie and Ted Raimi. See what I mean?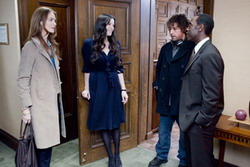 The wonderful thing about this movie ids that it isn't a film about 9/11. It's a film about a man who has lost his wife, three daughters and even the family dog in a plane crash that just happened to be one of the planes that crashed into the Twin Towers. It shows the emotion of coming to terms with an extremely harsh reality that would make anyone give up. OK, Now that I have tugged on your heartstrings I can tell you not to worry, there is plenty of comedy in the film. Any scene with Cheadle's secretary is absolutely hilarious. Sandler still provides much of the comedy here, it's just more along the lines of the heartfelt variety. I just don't want you going to the movie for the comedy alone.
As I stated at the beginning, you should see this so you too can help spread the word about a different side of Adam Sandler. One that may have a little golden statue in his future. Not to mention the fact that it is just a damn good movie in it's own right.

Keep reading,
Mitch E.
Last Updated: September 6, 2021 - 08:15