QQ Sweeper: Volume 3 manga review
By Leroy Douresseaux
Jun 20, 2016 - 19:55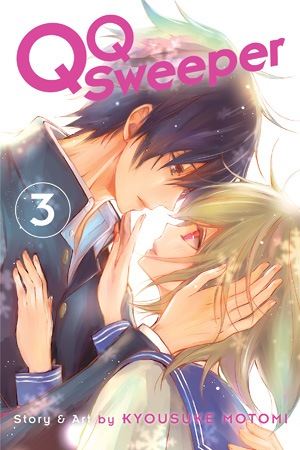 QQ Sweeper Volume 3 cover image
Rated "T" for "Teen"
One day,
Kyutaro Horikita
, the cleaning expert of
Kurokado Private High School
, he finds a maiden sleeping in an old room on campus. She is transfer student
Fumi Nishioka
, and like Kyutaro, she has a talent for cleaning. However, the tall, dark, and handsome Kyutaro is also a "
Sweeper
," someone who cleans away negative energy from people's heart, and Fumi is now his apprentice.
As
QQ Sweeper

, Vol. 3
(Chapters 11 to 15) begins, Fumi rethinks her plan to leave the home of Kyutaro and his family. She feels a sense of calm living and working with them, and Fumi begins to except the amorous feelings she has for Kyutaro.
Meanwhile, classmate
Kaori Tachibana
begins acting strangely towards Fumi during what is supposed to be a karaoke outing with friends. The trouble seems to be emanating from
Ataru Shikata
, a so-called fortune teller, who is really a "
Bug Handler
." And he has big plans for Fumi.
THE LOWDOWN:
The
QQ Sweeper
manga seemed unusual from its first volume. Well, the series cements its unusual nature because the series has come to a quick end.
QQ Sweeper Volume 3
is the final volume of this particular iteration of the story of Fumi Kyutaro. Fumi and Kyutaro will return in a new series apparently called
Queen's Quality
. As for the end of
QQ Sweeper
,
Kyousuke Motomi
will leave you wanting more. In fact, by the end of Vol. 3, you will think that there is no way the series could end with so much left unanswered and because the story has the potential to offer even more to the readers.
Well, however that works out,
QQ Sweeper
is short-but-good. So, yes, good things do come in small packages. This romance, dark fantasy, and mystery drama is worth a shojo reader's time.
POSSIBLE AUDIENCE:
Fans of Kyousuke Motomi will want to try the Shojo Beat title,
QQ Sweeper
.
A-
Rating: A- /10
Support this writer on Patreon
Last Updated: Jun 26, 2018 - 9:28