QQ Sweeper: Volume 2 manga review
By Leroy Douresseaux
February 8, 2016 - 13:51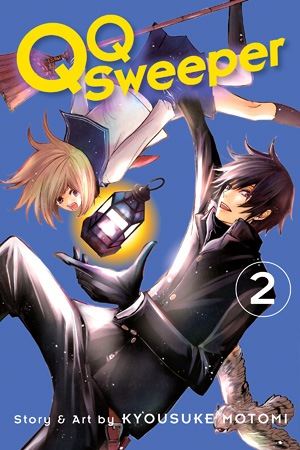 QQ Sweeper Volume 2 cover image
Rated "T" for "Teen"
Kyutaro Horikita
is the cleaning expert of
Kurokado Private High School
. One day, he finds a maiden sleeping in an old room on campus. She is transfer student
Fumi Nishioka
, and like Kyutaro, she has a talent for cleaning. However, the tall, dark, and handsome Kyutaro is also a "
Sweeper
," someone who cleans away negative energy from people's heart, and Fumi is now his apprentice.
As
QQ Sweeper

, Vol. 2
(Chapters 6 to 10) begins, Kyutaro is lost in the memories of his friend,
Fuyu
, a beautiful girl who mysteriously disappeared from his life long ago. Now, Kyutaro finds that his image of Fuyu is starting to overlap with that of Fumi. Meanwhile, fellow student,
Ren Shimizugawa
, attacks Fumi, saying strange things to her and referring to her as a "cursed girl." Now, Fumi is confronted by the secret she has kept from Kyutaro and his family who have taken her into their home and made her a part of their lives.
THE LOWDOWN:
With its first volume, the
QQ Sweeper
manga seemed unusual simply because so much of it focused on cleaning services and janitorial duties. Also, the series may indeed turn out to be a romantic fantasy-drama, as creator
Kyousuke Motomi
establishes the relationship between the two leads while hinting at each character's past.
QQ Sweeper Volume 2
gives readers a fuller look at a cleaning job, which allows readers to see how Sweepers work when they try to cleanse negative energy from a college student's heart and mind. There is also a tease of an arch-villain and hints about the larger world of Sweepers. Motomi invests more of the narrative into romance, but she seems determined not to make things easy for her stars. After this second volume,
QQ Sweepe
r looks to be stronger than the first volume suggested.
POSSIBLE AUDIENCE:
Fans of Kyousuke Motomi will want to try the Shojo Beat title,
QQ Sweeper
.
Rating: A- /10
Last Updated: August 31, 2023 - 08:12