Toys / Comics to Toys / DCDirect
Power Ring
By Hervé St-Louis
January 30, 2011 - 12:35
Power Ring is from the Crime Syndicate of America, the analogue of Green Lantern in the anti-matter universe. He has the same powers as a Green Lantern except he is evil. There have been several Power Ring characters in the past. This one is based on the original that fought the Justice League in the 1960s. This is the only Power Ring action figure by DCDirect.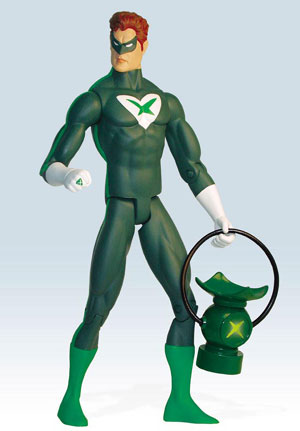 Power Ring is nothing but a Hal Jordan look-alike with a different logo. It's amazing how little innovation existed in the past and how little was changed when this evil Green Lantern was created. When Morrison re-imagined the character in the late 1990s' JLA series, he of course modernized the character and made him less a clone of Hal Jordan.
The action figure uses a simple built and simple articulations. The lack of design elements on means it can be used to create custom action figures easily. It would be quite easy to transform him into a multitude of Hal Jordan action figures.
His built lacks hips proper. He's quite skinny. I'd say he looks like Ryan Reynolds very much. I'm not impressed by the paint job on this action figure. There are no tones. It's all one thick colour applied per part.
Power Rings stands well on his own although he comes with a Crime Syndicate action figure stand. I'm not a fan of the lantern he has although it shares the translucent piece in the middle of other Green Lantern batteries. I don't like the base of the lantern.
The action figure is old. However, finding a copy should not be as difficult as one think. If anyone tries to sell you a Power Ring and claims it's still in its original package, be careful. Power Ring as well as the rest of the Classic Crime Syndicate series were released in new clam shell packages that allowed collectors to pen the package and close it off without having to destroy them. Only little stickers protected the package and could be used as proofs that the package had not been tempered with. However, as you may guess, putting the stickers back is not that difficult.
Rating: 7.5 /10
Last Updated: August 31, 2023 - 08:12