Poker Tome 1 : Short Stack
By Hervé St-Louis
December 22, 2009 - 23:16
Mark Middleton is a professional poker player who lives in France's Côte d'Azur where he makes a living beating tourists. But informed anonymously of the real cause of his parents' death several years ago, Mark wants to avenge his parents by attacking the mysterious circle, a secret cabal of poker aficionados that control the world. But will mark be able to beat the world's best poker player or will the beautiful Gia get in the way?
It's a typical premise built on a typical plot and it's not the strongest story thus far. If you've ever watched
Money
with Eric Stoltz you'll feel like you're watching the same film but in comic book form with mysterious allies and beautiful assassins. There isn't much to the plot and it's all predictable. Mark is not particularly interesting either. He's nothing but you're average American-sounding hero with a chip on his shoulder trying to avenge a past wrong instead of doing anything much better. I read parts of Ken Games last night and felt it was a much deeper story based on similar premises and more unexpected twists. Here, we already know how the volume ends and there is nothing to make readers want to come back for the second volume. What annoys me with this book the most is the obsession of many European creators with anything that sounds American. It's reverse exotism.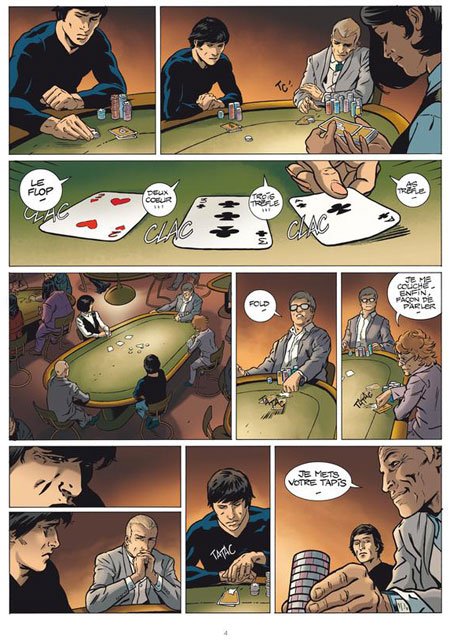 The artwork in not bad at all, but lacked definition or some kind of strong anchor to draw readers in. This is a thriller, but it is hardly moody or temperamental. It's coloured with the brightest colours available and there is nothing in the artwork that help tells the reader about the other dimension of this book. It's really not a bad read for readers looking for something easy without double meaning written in French to absorb. Looking at the images only, any English-speaking reader will make out the story easily. Perhaps this is what is lacking in this series. A sense of awe and wonder replaced by a text book recipe on how to create a comic book thriller.
Rating: 7 /10
Last Updated: April 9, 2021 - 22:22