Comics / Comic Reviews / More Comics
Penny for Your Soul #1
By Andy Frisk
June 6, 2010 - 21:25
Danica, the sultry daughter of Satan, has gotten into the soul collecting business much like her father, but with a twist. Sell your soul to Danica and her Eternity Hotel and Casino for $10,000 and spend it however you like therein. The finest food, drink, gambling, and sex are available. When you die though, you have to work for Danica and the Eternity for…well, eternity, but as hotel manager Maggie (short for Mary Magdalene) states, "That means when you die you don't go to heaven. But you do get to avoid Hell I suppose."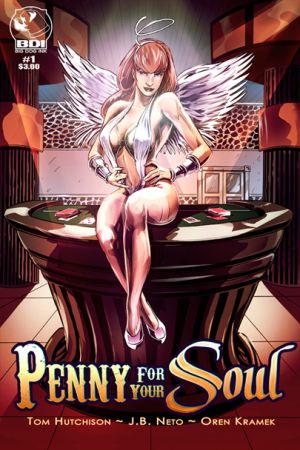 Maggie (a decidedly Da Vinci Code type Magdalene), who's still hung up on Jesus (who recently left heaven to do a radio show every Sunday because, according to Danica he "can't live without the attention of the masses"), says it all when she states the obvious in reference to Danica's success in building an army of souls within The Eternity…"sex sells." Sex will definitely help sell Penny for Your Soul, but it won't be what carries it and really doesn't need to. Creator and writer Tom Hutchinson's completely irreverent, satirical, funny, and downright blasphemously brilliant new series captures your attention with its sexy strumpets, and their hottie demoness boss, the scheming daughter of Satan, Danica, but the premise is so interesting and mysterious (as related to just what Danica's overall plan might be) that Penny for Your Soul hooks you immediately and leaves you craving the next installment.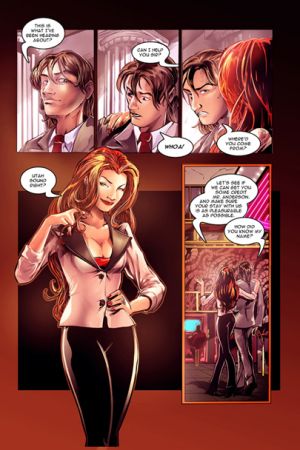 Danica
Series artist J.B. Neto does a great job bringing all this debauchery to life. His sharp pencil work reveals his solid command of anatomy and his realistic (if slightly exaggerated) grasp of body language. His attention to detail, especially where The Eternity girls' costumes are concerned, is great, and his panel breaks and lines (and occasional non-use of panel breaks and lines) are artistically interesting and put to great uses thematically throughout issue #1. Dancia isn't bound by traditional panel constraints, and occasionally sprawls across most of the page wherein she appears, but doesn't interrupt story flow between panels. She's a larger than life character, and the point is really emphasized through the layouts subtly yet powerfully. Oren Kramek's colors seem to drench the whole affair in a constant neon-like glow that perfectly suits the Sin City setting.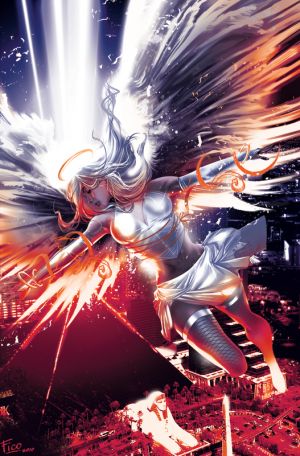 Special limited print that was available at the 2010 Heroes Con.
Overall, while Penny for Your Soul will undoubtedly be regarded as offensive to some, it is a smart and satirical commentary on religion, sexual mores, and the culture of "sex sells." It is intended for mature, but not "adults only" readers as there's no nudity or depictions of sex, so it's suitable for a wide audience. It is well plotted, paced, penciled and colored, and therefore great. This is a highly recommended read. At a cover price of less than most of Marvel Comics' monthly books, it's totally worth it.

for more info visit www.bigdogink.com
Rating: 8 /10
Last Updated: August 31, 2023 - 08:12