Once Upon a Time... Space
By Hervé St-Louis
May 26, 2014 - 10:56
Once upon a time, French-Polish producer and director Albert Barillé founded animation studio Procidis. After the success of its classic stop motion teddy bear
Colargol
(
Barnaby
), Barillé started his life work. He produced and directed several animated series all titled
Once Upon a Time...
In French the series' names were
Il était une fois...
The second of seven series,
Once Upon a Time... Space
was fictional with a lesser emphasis on educational contents than other Procidis series.
Airing in 1982 in France, Canada, Japan, Norway, and more Once Upon a Time... Space draws from the star system of characters Barillé established in his first series
Once Upon a Time... Man
. These characters are archetypes. First is Maestro who is the either a scientist or a great artist. Second is Peter (Pierre), his ally and often the main heroic protagonist in this star system. There is Peter's best friend Jumbo (Le Gros). Psi (Mercedes) is Peter's girlfriend. Pierrette is his mother or sister or Le Gros's consort. Finally, the bad guys are The Pest (Le Teigneux) and his acolyte The Dwarf (Le Nabot). Junior versions of each character exist. In Space, Pierrot is the son of President Pierrete and of military commander Pierre. He explores space with his robot sidekick Metro, and best friend Le Petit Gros.
Japanese animation studio Eiken animated the series. Character designer René Borg borrowed from
European comics' ligne claire cartoon style
. The characters are tall and thin. Their eyes are dots. They are not slapstick characters although have limited realism. But like traditional ligne claire designs, the backgrounds and prop are realistic and detailed. Famous French science fiction illustrator Manchu (Philippe Bouchet) designed the space ships and stations. Manchu's designs for Space are intricate and boxier than typical Japanese mecha designs. His ships have graffiti or camouflage painting. The Japanese animators on the series relied on held cells (stills) that they got from Manchu. They rarely animated the ships using full frame animation.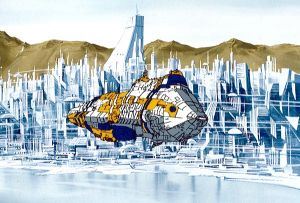 The theory that aliens from another world created life or guided ancient Earth civilizations is a major theme. It's in several episodes where Pierrot and Psi visit primitive civilizations on remote planets. They often are not part of the Omega Confederation of known sentient beings. To primitive natives, Pierrot, Psi and Metro often appear as gods intervening in their lives. Barillé uses the theme of advancement and civilization to criticize us and the Omega Confederation. Space occurs a thousand years from the 20th Century. Barillé enjoy criticizing the 20th century and its excesses. He wants to show how backward modern society is. But even the Omega Confederation does not escape his criticism. Cassiopeia's antagonists and the Confederation think that their civilizations achieved high levels of advancement. Hidden and ancient sentient beings visiting throughout the series perceive them as primitive.
The series explores many myths of Earth culture, like Greek gods, Atlantis, white skin Inca gods in many stories. The plot of many episodes involves Pierrot, Psi, and Metro visiting a new world. Often they stranded there, they have to unravel a plot by the evil people of Planet Cassiopeia. These are like the Klingons of the series.
The designs, the plot, the adventures, the science fiction themes have aged well. The ecological-friendly discourse of the series is still relevant. Space's concern about ecological waste, pollution, overpopulation, and sustainable development shows modern sensibilities. Barillé proposes many speculative solutions to current problems. For example humans collect hydrogen from space and store it as a renewable combustion fuel. Once Upon a Time... Space even addresses issues such as genetic manipulations although with a different lexicon. The emphasis on teaching core astronomy and basic math betray Barillé's education bias.
The mores and the treatment of non-white male characters in Space is the work of a previous generation. The series features a lot of diversity of race and culture in the cast. As well as aliens (who usually play secondary roles), humans manning the ships and space stations are from a variety of races. Yet, other Once Upon a Time... series are Euro-centric. The main discourse is Western-based and has a skewed contribution and depiction of non-whites. Women in this series play a huge role. Psi and her telepathic abilities often warn Pierrot of danger and save the day. Pierrot's mom, Pierrette is the leader of the alliance from Omega. Still, the treatment of many women in this series will annoy feminist viewers.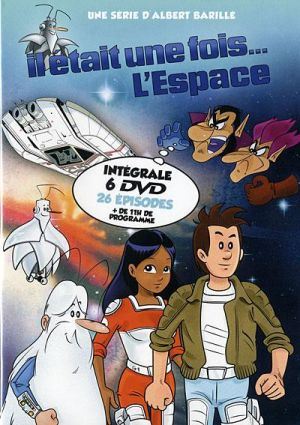 Space lacks postmodern insights. As any serious science fiction work, Once Upon a Time... Space is a mirror and a critical look at our own world. Societal debates that affected 1960s and 1970s France are missing from the series. Space appeared decades after anthropologist Claude Lévi-Strauss's research on "primitive societies." Yet, the treatment of the other in Space is still poor. Primitives are either noble savages or reflective sages with philosophical perspectives modern humans lack. Some express these perspectives through special powers like telepathy. Only Psi, Pierre's brown-skin companion can perceive these telepathic means of communication. Her second sight abilities show her as more in touch with the universe than her companion who lacks any way of seeing nuances. Psi is the perfect woman. Beautiful and the object of The Dwarf's desires, she has no sexuality. Psi is the only non-Caucasian main character in Space. She is more attuned to alternative thinking modes than her white friends. Psi participates in as many adventures that help the Omega Alliance as Pierrot. Her skills are as good and she is as competent as Pierrot. Yet, it is her boyfriend who receives promotions in the space police. She remains his passive lieutenant throughout the series.
Because of the star system, the series is nepotic. Yet, Barillé's best character is the modern version of Maestro. Metro is a robot duplicate of Maestro's brains and a sharper critical mind. Always complaining, he is the smartest character in the series and the one who rescues Psi and Pierrot in many episodes. Metro is resourceful, inventive and subtle comedic relief. This is where Barillé's direction is best. Cassiopeia's ongoing secret conquest plans reach a climax in the last four episodes of the series. Barillé's editing style is different than North American cartoon series. With a plot suitable for adults, he omits many explanatory scenes. By cutting away to more active sequences, he forces the viewer to fill in the storytelling gaps themselves. Barillé assumes that his audience, although composed of children, can keep up with the story well enough. It is not to say that there is no exposition in the series. There is a lot but it is educational. For example, in one episode, Barillé explains Saturn's rings. In another, Metro lists various theories about the disappearance of dinosaurs.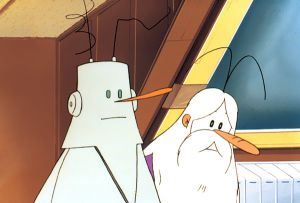 Helping Barillé tell his stories and viewer follow the adventures is the powerful soundtrack. The music is addictive and efficient in slower, active in threatening sequences. The music gives the viewer subconscious cues about what's happening. There are a few repeat animations throughout but the frame rate is about twelve drawings per seconds. That makes the animation fluid and useful in action sequences.
Once Upon a Time... Space, Il était une fois... l'Espace in French, is available in French in European-friendly region two DVDs. The series used to be available in North American region one DVDs in Canada (French only). But don't despair. Procidis is on iTunes. You can watch the entire series there. I recommend it.
Rating: 8 /10
Last Updated: February 5, 2023 - 09:06