Comics / Comic Reviews / Marvel Comics
New Avengers #2 Review
By Alexander Jones
January 16, 2013 - 19:09
"We shape the world it does not shape us."
New Avengers
#2 has many great lines and this is but one. Jonathan Hickman truly outdoes himself on the dialogue on this issue. While the science behind the plot will go over the heads of most readers, this is a series that will truly astonish. It is almost a shame that the the title has an Avengers moniker and isn't simply called
The Illuminati
. This issue showcases what this title could be, and it is one of the quieter issues of a story that one has to believe will ultimately conclude in payoff. The book is draped in a thick shadow that consumes the mood. The tone and feeling are so strong. There is one page where Tony Stark's face is half covered in the shadow that played up the atmosphere of the title in an extremely interesting and satisfying way. The scene that really steals the show of the book is when The Black Panther threatens to take the life of the Sub-Mariner. Due to the fact that you cannot even see the facial expression of T'Challa when he is threatening Namor, the scene is that much more riveting. The Panther is so imposing with his glowing eyes that he will most likely be imprinted into Namor's mind after that scene. The audacity of Namor to enter Wakanda and immediately go to T'Challa's liquor cabinet speaks volumes about the character. While this issue is not heavy on action expect character moments galore.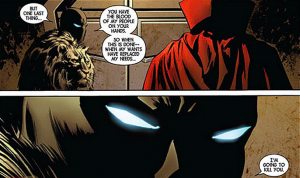 Another great part about the issue is once again Jonathan Hickman's obsession with graphic design. The title page narrating the issue is prevalent and ambitious along with the title page colored in stark black. The page featuring which infinity gem belongs to who is also a wonderful touch. Then of course the charts littered through the middle of the comic illustrating the present and frightening danger are also a sight to behold from a Marvel Comic. The infinity gems make their return in this issue in a very big way. They are a backdoor to the clear and present danger to the universe. At one point Reed Richards says the words eight hours one event two possible outcomes. Dialogue like this is the mantra of sorts to Jonathan Hickman. Having the characters poke logic holes through their own plans is an interesting way to call out the absurd logic of the Marvel Universe. However having characters play such a dynamic and heavy role makes the absurdity vanish and gives you a layer of character to focus on instead of insane cosmic science.
Playing up Marvel NOW! continuity and referencing the death of Charles Xavier is nothing short of genius. I look forward to this current band of New Avengers going to the ends of the universe to find the hiding spot of the last infinity gem and assembling the one and only Infinity Gauntlet. Luckily we have Jonathan Hickman and Steve Epting taking us along on their ride through the impossible.
Rating: 8.5 /10
Last Updated: August 31, 2023 - 08:12