Nausicaä Of The Valley Of The Wind
By Hervé St-Louis
March 6, 2011 - 20:21
Disney is re-releasing Nausicaä Of The Valley Of The Wind in a new package that includes both a copy of the original DVD from 2005 and a Blu-ray version. Nausicaä is a young princess in the Valley of the Wind. The valley is one of the few place on Earth, a thousand years after giant androids created by men walked all over the Earth and scorched it. A toxic jungle has grown in the remnants of the planet and human kingdoms scattered across the world are fighting for the last few resources, including one of the infamous giant that was still preserved. Can Nausicaä stop further destruction of the planet?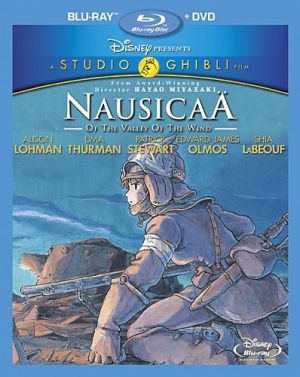 Nausicaä is based on a manga published for several years and created by Hayao Miyazaki, the director of the film. Miyazaki is one of the most respected and revered animation director in Japan and elsewhere. Of course, I was familiar with Nausicaä and already owned the 2005 DVD. Nausicaä, is probably the best animated film ever directed by Miyazaki. Originally released in 1984 and only focusing on a few parts from the larger epic depicted in the comic book, the film has a humanist and environmental message that resonate even better today than in 1984. Many of the threats and challenges nature and humanity's ability to live harmoniously on Earth are even still exist today and have profound implication such as global warming and clash of civilizations. Nausicaä is as topical as it can get while still being one of the most uplifting story ever told.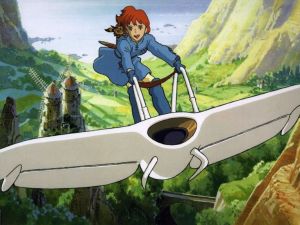 Nausicaä was created by a Japanese man. The concept of kingdoms, princes, and princesses sound just about right for that society. It's almost a feudal world where humans sport knights armours and fight with swords, yet still use guns, jet-propelled gliders and large propeller-based aircrafts. Wonderful and unique creatures have come into being, including giant insects that can kill humans easily. Themes of nuclear and total annihilation, which are prevalent in Japanese culture, because of having received two nuclear bombs affect deeply the story of Nausicaä. Nausicaä is a strong character with inner charm that attracts the attention of all who see her. She is a greater character than all the others in this story and although she has a would-be love interest, he is nowhere her match in skill and spirit.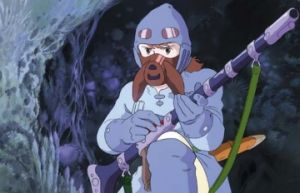 Nausicaä can feel deeply moralistic at times. The message the film conveys is strong. In all the terror and destruction, there is hope. Parts of the film may even seem scary for smaller kids. The message told in this story is relevant for all adults though. This English adaptation features a very good distribution including Shia LeBeouf, Patrick Stewart and Uma Thurman in supporting roles.
Strengths of the animated film include the musical score played by an orchestra and composed by Joe Hisaishi. The animation in Nausicaä is excellent, although it is from 1984. If any computing was used to make this film, it is very difficult to notice it. Instead, the animation is based on good old traditional and tested techniques such as overlays, held cells and a lot of secondary animation to make elements like grass and clothing seem alive. I particularly like how the giant bugs called ohms were animated with overlays, yet move so smoothly. Disney did not make a big fuss about it, but the digital restoration of the original material, if any was done sumptuously.
Nausicaä has been a classic of animation for decades now and a reference work for any budding animator. Its message is universal and positive. If by now you have not seen this film, I suggest that you get the upcoming release from Disney this week. It is in my opinion the best film by Miyazaki. I rank it well above
Princess Mononoke
which borrows so much from it. If you like the more quiet Miyazaki films like
My Neighbor Totoro
or
Spirited Away
, you will find elements of them in Nausicaä and more.
Exclusive Blu-ray Bonus World of Ghibli including
Features:
Behind the Studio
Enter the Lands
Studio Ghibli Trivia Challenge
Original Japanese storyboards
General Blu-ray & DVD
Behind the Microphone
Bonus Features:
The Birth Story of Studio Ghibli
Original TV trailers
Rating: 10 /10
Last Updated: May 19, 2020 - 12:25