Naruto The Movie: Ninja Clash In The Land Of Snow
By Al Kratina
November 14, 2007 - 20:40
Every time I watch anime, I feel like I've been woken up halfway through a calculus lecture. Nothing makes any sense, there's all kind of weird symbols everywhere, and the people beside me are really geeky. Just kidding. I watch them alone. It's not that I'm an anime neophyte, as I have some familiarity with major titles and yes, Naruto. But a screening of Akira when I was far too young to understand have left me with the unshakeable impression that anime is an incomprehensible, esoteric mystery, a Masonic hierarchy with Spirited Away as the initiate stage and Urotsokidoji as the master level.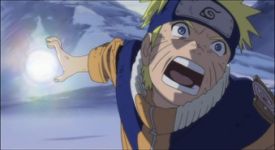 So it was a pleasant surprise to find that this first feature film based on the Naruto manga and anime series is so accessible. And not only that, it's pretty good. The film isn't mind-blowing in its aspirations or its execution, but it's simple, entertaining, and energetic without pumping up the visuals to seizure-level. Naruto is a young ninja from Leaf Village who's possessed by a demon fox or a cat or something that gives him whiskers and magic kung-fu powers. Accompanied by his sensei and his fellow apprentice ninjas Sasuke and Sakura, Naruta is assigned to protect a young actress who keeps fleeing the set of her new film. So, less 'protect' and more 'imprison', but the questionable legalities of unlawful confinement are quickly glossed over when it becomes apparent that the actress is actually a long-lost princess, and her escape attempts were motivated by self-preservation rather than a jones for coke and vodka tonics.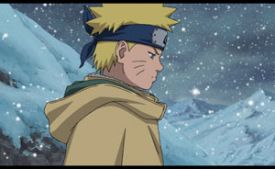 The animation is decent, but the script is lively enough that the visuals don't need to carry the film. There's a mature edge to some of the humour, and more people get carved up with flying knives than I'm used in animation skewed towards children. But the biggest surprise is the voice performance of Kari Wahlgren, who plays the reluctant princess with a measured deadpan that contrasts perfectly with the high energy in the rest of the performers. The action scenes are effective, and the winter settings ground the film nicely.
The three disc deluxe edition is a must for fans of the film or the series. It contains the 10 minutes short that preceded the film in its Japanese release, extensive interviews and behind the scenes footage, a soundtrack CD, and plenty of collectible cards, program guides, and assorted memorabilia.
Rating: 7 /10
Last Updated: December 31, 2019 - 20:28