Comics / Comic Reviews / DC Comics
Review: Mother Panic #5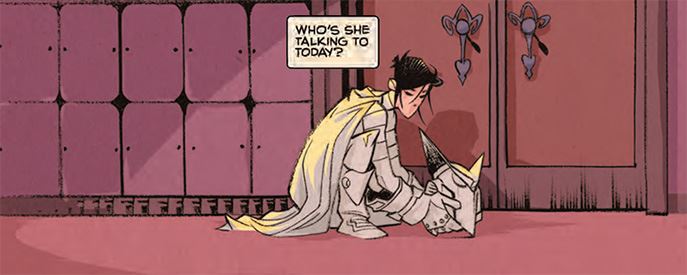 By Philip Schweier
May 5, 2017 - 14:12
Mother Panic's new friend may not be all he's cracked up to be, though he is quite cracked up. S'okay – Mother Panic can deal. After all, she's got her bughouse mom to look after. And she's crazier than an outhouse rat. And speaking of rats, who's the mysterious Willard wannabe who seems to be squatting in the basement?
I'm enjoying the series so far, though this particular issue seemed like a breather from the larger action. There is some character development for Violet Paige. She reminds me of another cloaked crime fighter I've long been a fan of, one whose personal skills need a bit of work, and whose secret identity is little more than an inconvenience.
Not every issue has to be action-packed, and I'm comfortable with that. Perhaps it's laying groundwork for later developments, or setting pieces in place.
"Radio Gotham" seems to be doing the same, but it's only four pages, so there's only so much that can happen. Action sequences will come, I'm sure. If I'm wrong, the feature will wither on the vine. That would be a shame. I enjoy the stories that are set within the DC Universe, but don't necessarily star the major players (or even the minor ones),

Gotham Central

being an example.
Support this writer on Patreon
Last Updated: Jun 26, 2018 - 9:28