Marvel Select Daredevil
By Hervé St-Louis
Jan 30, 2011 - 13:49
Good Daredevil action figures are hard to find. I've been looking for this elusive action figure for years now and was hoping my long quest would finally end with the marvel Select Daredevil action figure.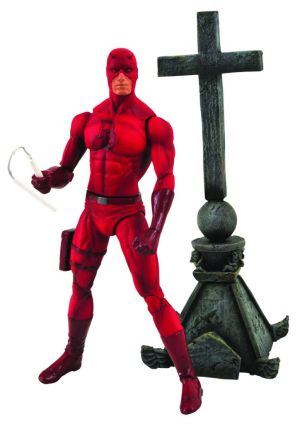 My search will have to continue. I've got a few Daredevil action figures. My oldest would be the movie version released for the 2003 Daredevil movie with Ben Affleck. It seems that ToyBiz at the time knew the movie would flop and made an ugly figure with a bad sculpt and limited articulations. It's head felt like it was pinned on a peg and much too small for the figure's size. The variant with the Ben Affleck head deserves to never be mentioned again. Because it was rarer, many people try to sell it as an exclusive and a special action figure. For years I would see stores and similar pawnshop types of operation peddling this Ben Affleck variant as if it was a pricey item. In reality, it was an action no one wanted and the peddlers would increase their prices to increase desirability artificially. If you have that action figure, you know you should stay away from it. The only good thing about it, was that its legs were reused to create the hard to find Red Skull action figure.
The other Daredevil action figure in a six-inch range was the Spider-man Classic version. I believe a few variant of that one exist as well. This figure is highly articulated. The problem is that it feels more like a puppet than an action figure. It's of course been reviewed by yours truly a few years ago. It's not a bad action figure, but it can't really stand up properly and the plastic it's made from is cheap.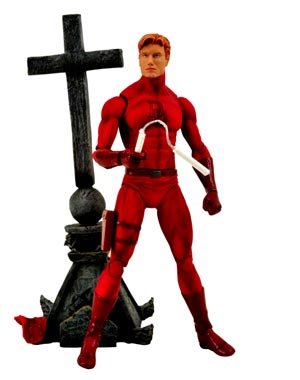 The Marvel Select Daredevil was my hope for a decent action figure for this character. He packs the articulations, although not as much as the Spider-man Classics variant. He's also more of a seven-inch toy than a six-inch one. The sculpt is great, although he looks too much like Affleck if you ask me. The problem with this toy is from the waist down. The v-shaped hip articulation means his hips are quite wide and his thighs pushed to each sides a with a large gap in the middle. Instead of looking like a slick fighter, he feels like a woman with large hips. It destroys the v-shape musculature of the character, giving him an "eight" shape instead.
The articulations are very stiff on this toy and the plastic is the same cheap one used on the Spider-Man Classic Daredevil action figure. There is some shading, but it's not the best looking application I've seen. As for his face, it's one large glob of flesh paint with no highlights on the lips. The application is kind of raw and it feels like Daredevil's face has a rash attack.
The props are no better. The billy club doesn't even come with the part that's built like a cane. It's also way too short and painted white. It doesn't fit in Daredevil's thigh holster either. The cross element is randomly added to the package without any care. The action figure is way too stiff too allow any kind of posing on the cross. The Spider-man Classic Daredevil had great props. he had this window ledger that you could pin his cane on and twist. Even the movie Daredevil action figure had a church window that looked decent. The cross here has cool shadings, but it's nothing more than a cheap backdrop prop. It used to be that Marvel Select made magnificent props. I remember the diorama for the Ultimate Thor which was the face of a defeated Giant-man. The Punisher one had a guy pushed through an arcade game. The Ultimate Wolverine had a Magneto action figure that had been stabbed in the guts. This cross has no real reason of being, and that's a shame because Daredevil is the kind of character that invites experiments with different props and diorama. An imaginative designer could have done so much.
As I said, I'm still looking for the ultimate Daredevil action figure. I'm not a fan of the 3.3/4 Hasbro Marvel Legends' toys. These were good when I was a kid. I'm an adult collector now and I prefer the larger action figures.
This action figure costs about $25 in both Canada and the United States. Although it was released almost two years ago, it's still in stock. Compared to past Marvel Select action figures, this one is expensive but without the bang for the buck.
Rating: 6.5 /10
Last Updated: Jun 26, 2018 - 9:28