Comics / Comic Reviews / DC Comics
Review: Looney Tunes #243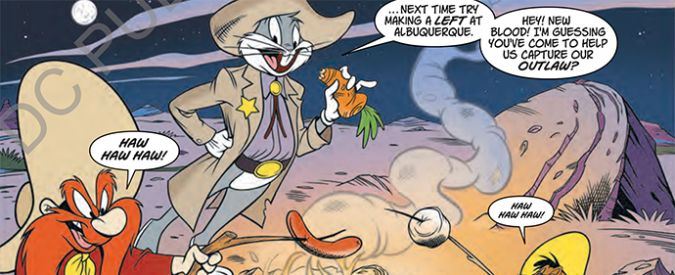 By Philip Schweier
May 23, 2018 - 04:54
I have a terrible fondness for the underdogs, and those that have been denied the recognition that goes to others. So when I see an obscure Looney Tunes character featured on the cover, I'm confident that I will enjoy seeing Nasty Canasta in action. Unfortunately, Nasty isn't quite the star of the story, as hero or villain.
There are four stories in this issue, two of which are only a page in length (which is okay; it tells the story). The other major story involves Granny's new neighbors, whom Sylvester finds nothing short of frightening. It also features an obscure character from the Looney Tunes canon – Gossammer, the giant pile of red hair. He's an INNNNteresting monster whom Sylvester is determined to expose to the public, whether Granny believes him or not.
It's good to see all the Looney Tunes characters enjoy a bit of revival. Bugs and Daffy are the easy ones, but the lesser knows and the also-rans (Pete Puma, please) have the benefit of not coming with so much history and baggage that they are beholden to 80+ years of animation continuity.
Superman and Batman have been published continuously for decades. Looney Tunes, less so. While it may be easy to dismiss the artwork as cartoon simple, the truth is it takes no small effort to capture that Termite Terrace style made famous and funny by the likes of Chuck Jones and Friz Frieling. Anyone could publish a Looney Tunes title, but the team at DC breathes the Looney Tunes life into it while they do it.
Rating: 8/10
Last Updated: February 5, 2023 - 09:06