Le Crépuscule des Dieux vol.1
By Patrick Bérubé
February 18, 2008 - 13:51
Albéric, king of the Nibelungen, has forged a ring of tremendous power that also cast a terrible curse upon whoever wears it. Wotan, father of the gods, steals the ring in order to free Idunn, goddess of the eternal youth, who is held prisoner by two giants. Only too late does he realize that the ring has let his curse loose upon him before he could get rid of it.
In order to free himself, Wotan travels to Midgard, land of the men, to pass the curse unto a woman while bedding her. But the curse endures and is reborn again many generations later as Siegmund and Sieglinde, mortal heir and heiress of the gods. Both realms destinies are thus linked together…
Borrowing in part from historical facts, Germanic mythology and from Wagner's opera on the topic, this graphic novel has a lot of source materials to rely on. And that may be the problem here. Saying that a lot happen in this book would be an understatement. Much more than an American reader is used to in 50 pages. Many gods are introduced, intrigues abound and epic tales are reduced to a few panels. By trying to show too wide a portrait, this book is kind of loosing track of its main story. I was wondering for a moment while reading were the plot was heading and who were the main characters amidst all the one who had been introduced.
But luckily for this graphic novel, Djief's evocative art makes us understand and imagine a lot in a few panels. Even if his work is very consistent throughout the book, his splash pages are probably the most impressive. Only some of his facial expressions were in my opinion, not expressing enough emotions. North Americans comic book readers might remember Djief for his art on The Grimoire published by the now defunct
Speakeasy Comics
. By comparing both works, it's incredible to see how good he was then and how better he is now.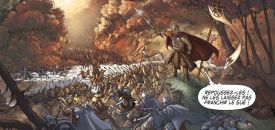 A panel from p.7 Image courtesy of djief.com
Even with his few storytelling flaws, this book remain above a lot of other European graphic novels I have read recently. It will be interesting to see if all the elements shown in this first volume will tie together in future volumes or if they were only there to give us a wider view of this mythological universe.
I give this graphic novel 7.5 out of 10
Last Updated: September 6, 2021 - 08:15