Comics / Comic Reviews / Marvel Comics
Kick-Ass #1
By Geoff Hoppe
February 28, 2008 - 21:18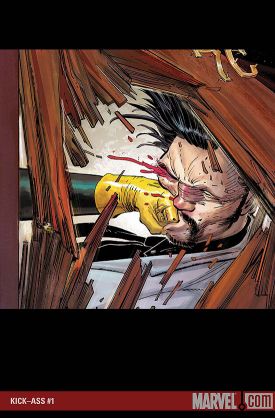 Candy Bars for Ban-OOMPH
In Mark Millar's first issue of
Kick-Ass
(which Marvel Comics assures us is "THE GREATEST SUPERHERO BOOK OF ALL TIME"), a teenager tries to become a superhero. Only he swears a lot. And apparently his enemies read a lot of Garth Ennis comics.
THE OBLIGATORY WARNING: buckets of blood, stabbing, beating, an uncomfortably frank reminder of the kind of language eighth and ninth graders use.
Kick-Ass, Mark Millar's new series, follows high schooler Dave Lizewski's attempts to become a real-life superhero. Dave, a remarkably average student, is motivated by a love for comic books, as well as a subtly underplayed social conscience ("Why do people want to be Paris Hilton and nobody wants to be Spider-Man?"). He also narrates this first chapter from a dingy warehouse where gangsters have hooked a car battery up to his naughty bits. Ouch.
Some elements of Kick-Ass are quite good. Millar has a good eye for high school life, and also the often agonistic relationships even friends have. He's clearly trying to handle the issue of parental loss in a realistic fashion, despite the protagonist's seeming chilliness.
Other parts of Kick-Ass read like a mopey writer's uncomfortable tell-all ("It didn't take your parents getting shot to become a superhero…just the perfect combination of loneliness and despair."). It's difficult not to read some autobiography into such a comment, especially when it's written right in a panel where the hero eyes himself in a mirror.
It's honestly impossible to judge Kick-Ass just yet. Millar isn't the first guy to wonder how well a real superhero would work out, nor is he the first to write a story based around that question. Alan Moore did the "realistic" thing with Watchmen…though, apparently, "realistic" in Moore's world means everyone is either a rapist, impotent, or an Olympic gymnast with a genius IQ. Kick-Ass could get better or worse, and it will be interesting--if not necessarily entertaining-- to watch it unfold.
John Romita Jr.'s pencil work is as good as ever, though I often wonder about his propensity to draw most of his characters with long hair. Where he really shines is the uncomfortable claustrophobia of his urban landscapes. Classrooms, school cafeterias, back alleys, all impose on the reader with overbearing griminess. Now that's what I remember middle school looking like…
Worth the money? Not just yet. Wait and see what happens next month.
Last Updated: January 24, 2022 - 11:00