Jean-Claude Mézières (1938-2022)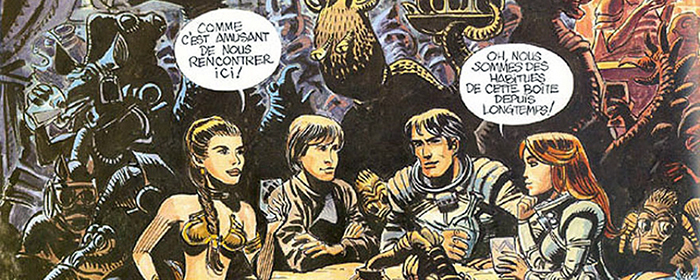 By Hervé St-Louis
February 5, 2022 - 20:24
French cartoonist Jean-Claude Mézières, co-creator of the successful science fiction comic series
Valérian and Lauréline
died on January 23, 2022. Mézières created the
Valérian and Lauréline
comic series along with old friend Pierre Christin who was responsible for the scenarios, while the former, was the artist. Mézières's work is responsible for the rusty space ship look used so often in contemporary fiction such as
Star Wars
.
In fact, Mézières was surprised when he watched the first
Star Wars
film, as it had lifted so much of his work and adapted it for cinema without any attribution by director and creator Georges Lucas. Fans of Mézières's
Valérian and Lauréline
have compiled many lists of homages and direct swipes from Mézières's work that can be found throughout the Star Wars franchise, uncredited.
From a young age, Mézières knew that he wanted to create comics, starting with his own fanzines which adapted
Tintin
stories in new locales. Trained at
École des arts appliqués
, a fine art school, he befriended future cartoonist
Mœbius
and many more. Mézières worked in advertising, film preproduction, and illustration as well as comics. He was quite imaginative, as can be seen in his wide-ranging work on
Valérian and Lauréline
which he drew between 1967 and 2019.
In 2017, director Luc Besson adapted
Valerian and the City of a Thousand Planets
into film with lacklustre success. Nevertheless, Mézières work was intricate and closer to the
School of Charleroi
series such as Franklin's
Spirou
with intricate backgrounds and science fiction artifacts.
Last Updated: February 7, 2022 - 08:05