Toys / Comics to Toys / DCDirect
JLI Batman
By Hervé St-Louis
March 1, 2009 - 08:39
Hey, another Batman action figure by DCDirect. At least this time, it's inspired on a series I actually like and an artist whose work has not been revisited in the action figure world. Artist Kevin Maguire help work on the designs of the Batman action figure based on the popular Justice League International (JLI) comic book series from the mid 1980s. Like many Generation X kids, this series was my favourite interpretation of the Justice League and the one that gave me the most laughs per pages. Maguire's strength has always been the facial expressions he gives to characters and this entire series gave us memorable renditions of our favourite super heroes.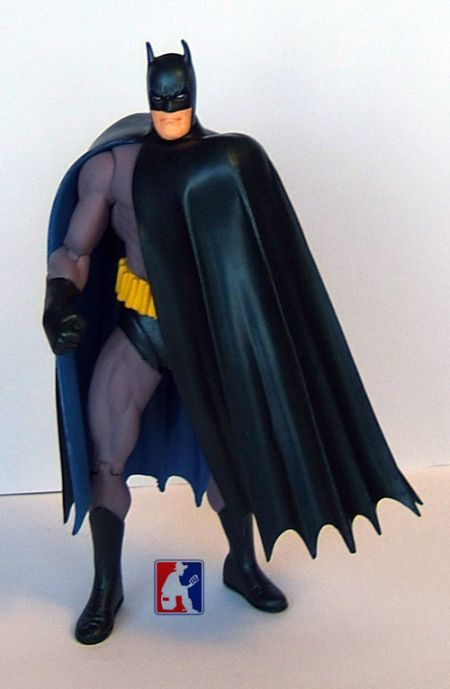 The cape on Batman seems a bit too short to but it's actually the right length. Back then, Batman's cape didn't need to mop the floor to be effective and convincing. Also, unlike other Batman renditions by other artists, the cape feels more like a coat. On the action figure, it covers totally his shoulders, making access to Batman's arms difficult. Nevertheless, this is an accurate portrayal of Batman in the JLI comic book series. If readers remember, Batman didn't do much physically. Of note was his "one punch" moment with Green Lantern Guy Gardner but not much more. He was a brooding thinker before it became popular to portray him like that.
There's a conceited smirk on Batman's face. Maybe he looks more constipated. It doesn't matter. Batman is always pissed off anyway. I find the head too small in comparison with the rest of his body. This is further enhanced by the width of the cape's shoulder pads.
It's hard to determine if DCDirect reused some parts of former action figures on this one. The sculpt is fine, although Batman's legs and feet are crooked, making it difficult to balance him right without his action figure stand. The articulations are stiff, further complicating any attempt at posing Batman in any dynamic pose. For example, although he has ball-jointed shoulders, it's difficult to rotate them sideways.
Yet, I still like this action figure and think it's a great display piece but useless for playtime. Of course it fits well with all the of the new Justice League International action figures. One problem for collectors might be mixing Batman with past DCDirect action figures such as Guy Gardner. Gardner is clearly too short.
Rating: 8.5 /10
Last Updated: August 31, 2023 - 08:12