It Might Get Loud
By Andy Frisk
October 20, 2009 - 23:32
At first glance, one might wonder why in the world filmmaker David Guggenheim chose Jimmy Page, Jack White, and The Edge to sit across from one another and, between intermittent jams, encourage them to simply chat about their love, respect, and admiration for the instrument that they are accomplished masters of, while they have very little in common with each other when it comes to their styles of playing? For that matter, why choose three guitarists whose styles of rock music often find themselves diametrically opposed to one another as well?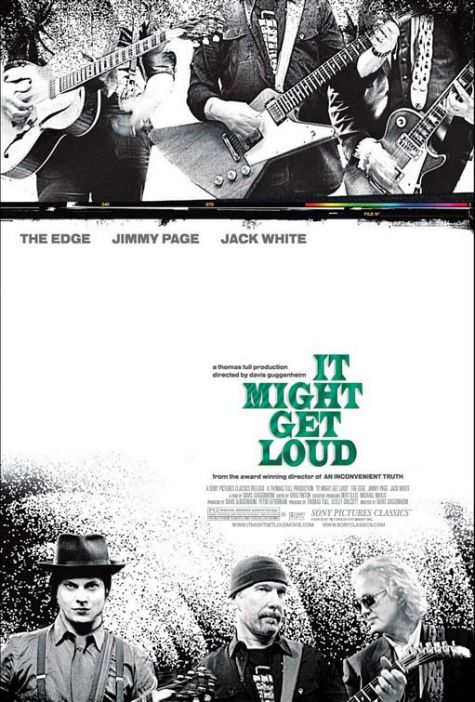 Jimmy Page of Led Zeppelin represents the pinnacle of old school metal, or classic rock guitar playing that was, and still is inventive, groundbreaking, inspiring, but sadly much imitated, often poorly, and finally parodied. The Edge of U2 represents the nascent, minimalist punk style of playing that he took to an entire new level by morphing it into an innovative, technological, supersonic landscape that simultaneously birthed meaty riffs and soaring acoustics. All of this was done by The Edge to consciously create a type of playing that was an anti-classic rock guitar playing style, of which Spinal Tap was the ultimate parody of. The Edge bewails the "ten minute guitar solo." "I wept," says The Edge, when he saw Spinal Tap for the first time because, "it was so close to the truth." Jack White, of The White Stripes, The Raconteurs, and The Dead Weather, represents a culmination of the new rock revolution which began in the early 1990's. His devotion to authenticity, stripped down amplification, rejection of technology, and admiration for 1930's bluesmen like Son House, represents a reaction to the mega tours and technological manipulations of Memory Man pedals and echo devices that The Edge and U2 are famous for using to create their soaring guitar sound.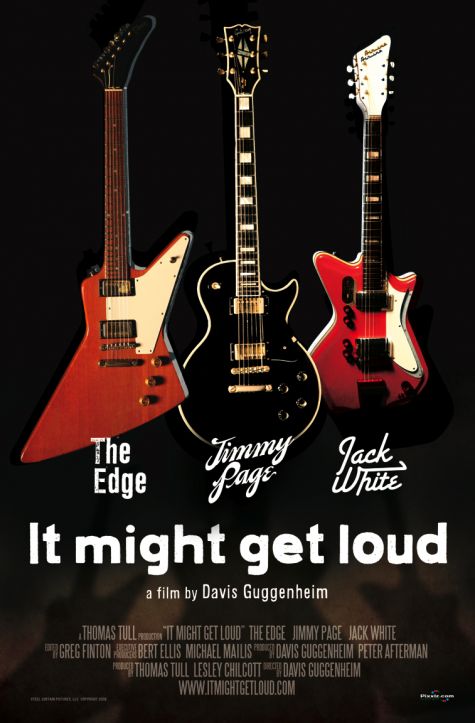 Rockers are often known for their clannishness and often in the past have broken into hostile camps. There was the metal heads vs. the punk rockers, the hair metal heads vs. the grunge heads, and now the nu-metal heads vs. the emos, all of which, besides being absolutely foolish divisions, and thankfully not nearly as prevalent as in the past, often fail to recognize that none of them would have their beloved niches without the instrument that makes it all possible, the electric guitar. As Jack White states in the film's early moments, with regards to what he thinks might happen when the three meet ("probably a fist fight"), rockers of every genre often make the mistake of overlooking the truth of Jimmy Page's proclamation in the film, that everyone approaches the guitar uniquely, in their own way, and thusly their own personality comes through to the benefit of all. As Jack learns, along with us, by the end of It Might Get Loud, there is a magic in each and every accomplished guitar player's (guitar innovator, in Page and Edge's case) creations that transcends musical niches and camps and is shared by anyone and everyone who picks up a six string, or twelve string, and creates sound. By extension, this magic is present in the complete work of the guitar player/innovator's band. Be it classic rock, punk, new wave, grunge, emo, hair metal, or nu-metal, rock music can take you places you've never been just by putting on the headphones. It Might Get Loud joyously examines and celebrates the personal inspirations behind a holy trinity, if you will, of guitar gods and their gifts to each other and their listeners, while simultaneously showing them to be, quite simply, down to earth men who are rock fans themselves at heart.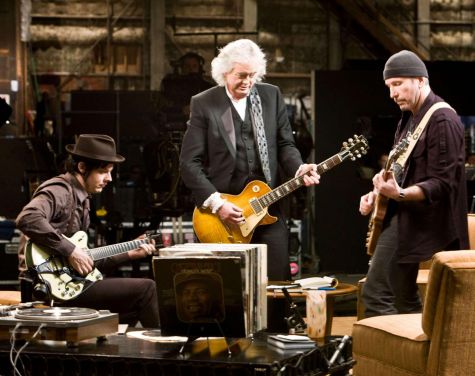 As the film opens we're treated to early demos, appearances and concert footage of each guitarist and their band(s). Some hilarious early appearances by U2 on Top of The Pops, which The Edge admits are quite bad, some early footage of a young "James" Page playing skiffle on British television, and a look at the cover of Jack White's first record album, are all humorous yet revealing snippets of the beginnings of these guitar greats. They all have one thing in common, a passion to play music through their beloved instrument. Jack White discusses his first guitar and how much it still means to him, and we see footage of him building a one string guitar from a Coke bottle and a few blocks of wood. Later we hear the story of how The Edge and his brother built a guitar because they couldn't afford one. We witness Jimmy Page recount how his time as a studio session musician quickly developed into a frustrating grind which held back his desire to build upon his creative urges.
The film progresses to when "Everything Changed" as The Edge discovers delay pedals and other effects which he employs, taking U2 to new sonic heights, Page breaks free of studio work and begins to experiment with sustain, creating Led Zeppelin's classic sound, and White masters the sound, look, and dynamic of what would become The White Stripes. Each guitarist goes into detail and nearly wax poetic when talking about their first guitars. The Edge's famous Gibson Explorer, Page's Stratocaster, and White's beaten up Kay get loving exposure. We see the simple joy in their eyes light up their faces when each talks to the others about these first instruments. The recognition in the faces of the other two as one of them relates hilarious anecdotes about their guitars, and the joy they share as they teach each other riffs from, or play together on, each others' hit songs is so powerful that it reaches out and grasps the music loving part of the audiences' very souls. One can't help but share in the joy that is the power of music to create connections between souls. As The Edge states at one point, it is the power to connect with people that is the greatest joy of guitar playing.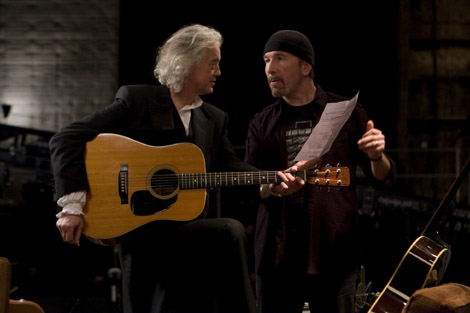 Throughout the film it becomes obvious that these men become even more impressed with and impressed by each other. The boyish grins that creep across the faces of The Edge and White when Page rips into the main riff from "Whole Lotta Love" and the energy that Page exudes when playing Edge's punk inspired riff from "I Will Follow" are just a few of the examples where the different styles of playing and styles of rock guitar reach across the divides and grasp each of the guitarists on a primal emotional level, which is one of joy. White, who disparages technology in guitar playing, yet technologically modifies one of his guitars to include a microphone, feels the power of Edge's technological riffing. Edge engages in some downright dirty classic rock slide guitar playing with Page and White, holding his own with the blues based rock masters (he is an accomplished slide guitar player in his own right). Slowly, we see any rock prejudices that might exist in the minds of the rock camp champions melt away as these three gifted players share, indulge in, and enjoy each others' playing like the true rock fans they are at heart.
And rock fans they are, no doubt. The Edge relates, with a still very much alive awe, the moment that rock music became his passion when seeing The Clash play, along with The Ramones and other seminal punk bands, which spoke to him of a new hope on the horizon during the economic tribulations of Dublin in the 1970's. Jimmy Page becomes a grinning teenager playing air guitar to "Rumble" by Link Ray, obviously still inspired by the vibrato Ray added to his guitar playing as the song progressed. White sits spellbound while listening to "Grinnin' In Your Face" by blues legend Son House, still awe struck by the simple power of the blues.
As the film reaches its closing, Edge, Page and White all relate the struggle and accomplishment that being more that just a guitarist is. All are writers of their music and create their own material, but as each state, sometimes you have to fight with your instrument and leave your blood on it, like White actually does during one live performance captured in the film, to create the great sound. Edge relates the anger, frustration, and horror he felt over IRA bombings in the late 1970's and early 1980's that served as the inspiration for his writing of "Sunday Bloody Sunday." Page relates the explosion of creativity he indulged in when freed form session music, along with his love for the arts of "the great masters" like painting and sculpting. White relates how he has to find that conflict, contradiction, and battle in himself, with himself, or something else to bring to life the creative tension necessary to create great art.
Great art is what It Might Get Loud is. Great art is what great guitar playing is. Even though, like the art forms of "the great masters," guitar playing as an art form fractures and divides into genres, it is in essence an art form that swells from the same well spring of creative love for the sound, look, feel, and ability of the electric guitar to create soundscapes that are truly magical despite the genre. Their ability to transport us from our mundane daily grinds, down trodden emotional states, or apathetic outlooks to places of wonder our psyches have only dreamt of is truly a gift of the gods. Edge, Page, and White, through the example of their love of the guitar, show us a world that is only a listen, moment, and feeling away, no matter what style of music is your muse.

Rating: 10 /10
Last Updated: March 10, 2022 - 22:00