Is Archie Comics for Sale?
By Hervé St-Louis
November 21, 2011 - 22:36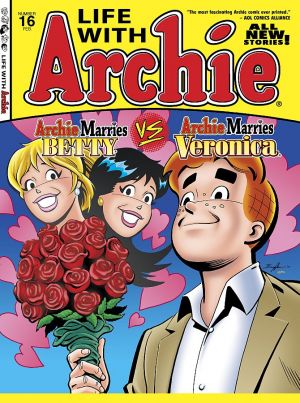 Are there any suitors for Archie Comics?
Archie Comics, founded in 1939 as MLJ, is one of the oldest comic book publisher in the world. Moreover, it is one of the few independent comic book publishers with an important and recognizable library of characters known to the public outside of comic books that have been adapted to several media such a animation, film, and sold as licensed products. It is also one of the few comic book publishers which to this day whose comics can still be bought at newsstands. All of this pegs the question – when will Archie Comics be sold to a large media group?
Similar comic book publishers with well-recognized original properties have all been sold to larger media companies and form parts of their enhanced contents library. Archie Comics are distributed in several countries in several languages. While ownership by non publicly-trade entities is frequent in Europe, this is rare in North American comics. The original family that owned Archie Comics, still the company. In the 1970s, Time Warner purchased DC Comics. Disney completed the acquisition of Marvel in 2009, but the publisher has exchanged hands several times before original owner martin Goodman sold it. Other comic book publishers who occupy the same demographic groups – youth, such as Harvey Comics have also been purchased recently. Rights to Harvey Comics' movies were also owned for a while by Hollywood studio Universal Studios. Outside of comics, similarly sized animation studios with unique libraries of popular characters such as Jim Hanson, Hanna-Barbera, Ruby Spears, DIC have all been swallowed by larger entertainment groups.
In 2010, with a new leadership team at Archie Comics propelled the publisher to greater sales in the direct comic book market and now, Archie Comics continuously tops sales charts in the world of digital comic books. The assets and the execution at Archie Comics seems flawless. How come now one has publicly made a bid for the publisher? Archie Comics, with its extensive and popular library of characters appealing to tweens and its constant reinvention abilities generation after generation would make an attractive catch for any large Hollywood studio such as Universal, Paramount, Sony, Disney or Warner. Recently Warner, through DC Comics did license the super hero assets of Archie Comics and used them in its own comic books. It was the second time that DC Comics had reached such an agreement with Archie Comics. The first time was in the 1990s with Impact Comics line.
With the current execution and renewed popularity of Archie Comics titles, there are probably a lot of larger companies sniffing around the owners of the company. As the publisher has been owned by the same family for at least three generation, one wonders if the attachment to such a solid company and the continual positive returns are enough to persuade the current leadership to stay the course. Similarly, the rejuvenation at Archie Comics may be part of a multi-year plan to make the company attractive to buyers and fetch a better market price than would be warranted. In any case, even without the recent successes at Archie Comics, the publisher remains a catch and a great asset to whoever owns it.
Last Updated: September 6, 2021 - 08:15